Prayer Liturgy

Prayer Liturgy with the Saint John's Bible

A program for a Prayer Liturgy has been created for when the Bible is hosted by a parish / Deanery. It includes:

a history of the Arrival of the Gospel in Western Canada 200 years ago

an introduction to Saint John's Bible
"Lectio / Visio Divina" with The Road to Emmaus

an opportunity to come look closely at the Bible
When will this Prayer Liturgy happen?
One or more Prayer Liturgy with the Bible will take place in each Deanery. The dates should be advertised in your parish bulletin.
Who will lead this Prayer Liturgy?
Leaders of Prayer Liturgy with the Bible will be selected by their parish / Deanery. Formation for the Leaders will take place on Thursday November 23 in the evening OR Saturday November 25 in the morning. Participants will be notified of time and place when they are registered by their parish / Deanery.
Resources for this Prayer Liturgy
Leaders will receive the resources needed to lead the Prayer Liturgy when they come for formation. Some of those resources are available on the Resources to Download or Useful Links pages.

Saint John's Bible Committee
Co-Chair: Camille Légaré, CSV
Email: clegare@mymts.net
Co-Chair: Julien Fradette
Email: julienf@mymts.net
Committee Members:
Karen Duncan

Michelle Larose-Kuzenko

Yolande Le Quéré

Philippe Le Quéré, Deacon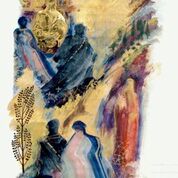 Road to Emmaus, Sally Mae Joseph, © 2002