Prison Ministry
The Prison Ministry was establish in 2013 with representatives from the Archdioceses of Saint Boniface and Winnipeg, as well as the Ukrainian Archeparchy.
The mandate of this Task Force going forward is to accompany and assist prisoners as they end their time of incarceration and begin their phase of reintegration with their family and within society.
A Community Chaplaincy Program as been established. Two sites, St. Kateri Tekakwitha Parish and Holy Eucharist Ukrainian Catholic Parish, host weekly gatherings for former prisoners and their families. The coordinator, aided by a task force and volunteers, provides welcome, accompaniment, support and resources to help find accommodations, employement and the necessities of life.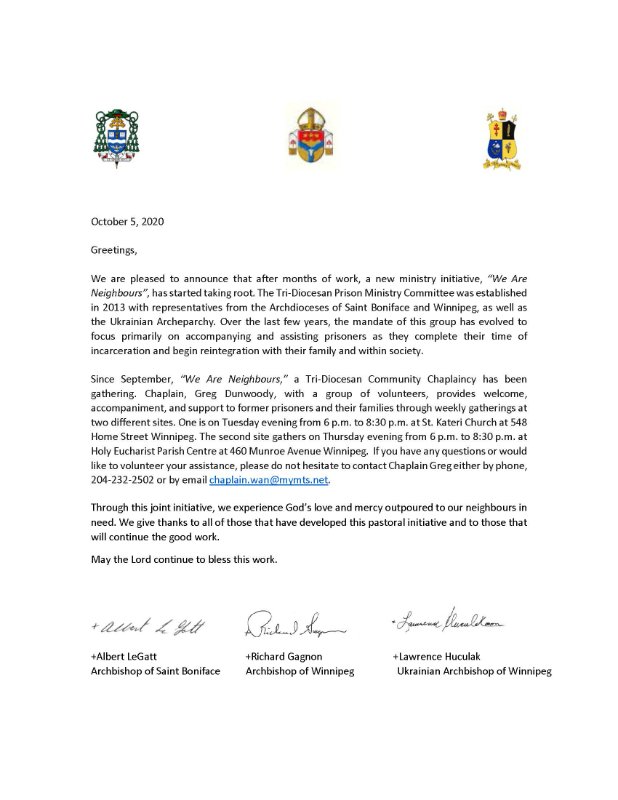 Tri-Diocesan Community Chaplaincy Task Force
Greg Dunwoody - Coordinator
Representatives from the Archdiocese of Saint Boniface
Deacon Rick Loftson
Louis Balcaen
Representatives from the Archdiocese of Winnipeg
Deacon Larry Campbell
Dr. Stanka Klaponski
Representatives from the Ukrainian Catholic Archeparchy of Manitoba
Fr. Michael Kwiatkowski
Roxolana Mostivsky
Please contact with any questions:
Mireille Grenier
204-594-0278
mgrenier@archsaintboniface.ca
Social Justice