Refugee Sponsorship Ministry
Archdiocesan General Refugee Trust Fund
Are you interested in helping our parishes sponsor refugees? You may do so by making a financial contribution to the 'General Refugee Trust Fund'. A cheque should be written to: C.A.C.R. de Saint-Boniface, with a memo to 'General Refugee Trust Fund' and mailed to: Archdiocese of Saint Boniface, 151, avenue de la Cathédrale, Winnipeg, MB, R2H 0H6, Attention: Julie Paquin. All financial donations will go directly towards meeting the needs of the refugee families sponsored by the parishes. As well, should you wish to donate to a specific Parish Refugee Trust Fund, currently collecting groups are: St. Joachim Parish in La Broquerie with St. Emile Parish, who are collecting funds to sponsor a second family; or St. Bernadette Parish or Saints-Martyrs-Canadiens Parish; St. Timothy Parish is currently accepting donations for two families that have been sponsored. For more information: Mary Hailu, Refugee Sponsorship Services, Archdiocese of Saint Boniface, refugee@archsaintboniface.ca
Description of Services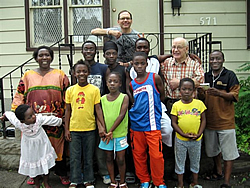 The stranger in your midst will be as one born with you, and you shall love him as you love yourself. (Leviticus 19, 34)
The Archdiocese of Saint Boniface considers refugee assistance as one way to abide by the Word of God. The Archdiocese is officially recognized as a Sponsorship Agreement Holder by Citizenship and Immigration Canada (CIC), thus allowing parishes or families to sponsor refugees on behalf of the Archdiocese. Many refugee applications are currently pending as applicants are awaiting interviews in order to determine their eligibility for refugee status in Canada. Future initiatives will involve working with individual parishes to encourage participation in sponsorship of refugees from all over the world.
What does the Ministry do?
The Refugee Sponsorship Ministry provides administrative, training and resource service to welcome the stranger as Jesus' teaching – Matthew 25:35.
What is welcoming the stranger?
It is providing protection to millions of people around the world who are forced to flee their homeland to escape persecution, war and conflict. We are able to provide opportunities and put our faith in action to the desperate and needy.
How can I be involved?
(click on active links)
Volunteer
Pray - With God all things are possible. Matthew 19:26
What does sponsorship involves?
Sponsorship is a one year commitment to support refugees as they adjust life in Canada. The steps are:
Form a sponsoring group in your parish or with another parish
Raise Funds
Put an application in
Welcome refugees, and support refugees to have access to food, housing, clothing, transportation , health care, education , job & language training, and employment.
What is the financial commitment?
There are different resettlement programs in Canada. Through the program that the diocese is currently involved the financial commitment is to provide 6 months income support where the government provides the rest of the 6 months of the one year sponsorship period. The sponsorship cost depending on the family size ranges from $7,700 to $20,250.
How do I begin?
Contact the refugee sponsorship office to help you set up a sponsoring group and to learn more about the process
Begin fundraising and make a settlement plan, designating tasks among sponsoring group members.
Mary Hailu, Coordinator
Refugee Sponsorship Services
Archdiocese of Saint Boniface
151 avenue de la Cathédrale
Winnipeg MB R2H 0H6
Email: refugee@archsaintboniface.ca
Refugee Sponsorship