The Archbishop's Residence - A Brief History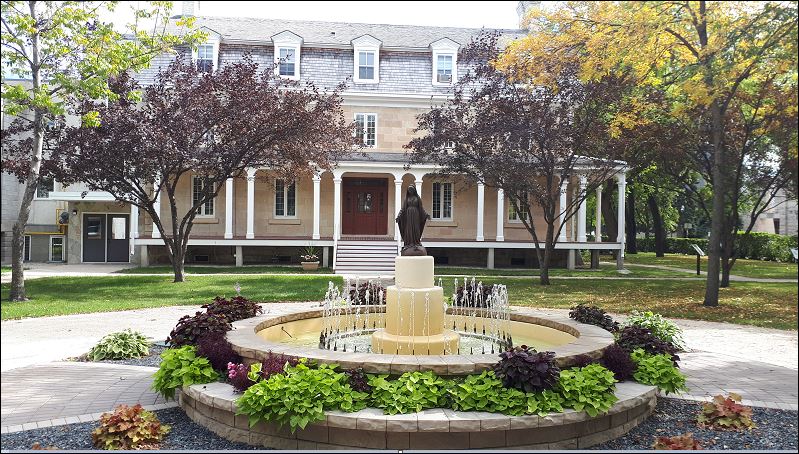 The Archdiocesan Centre, formerly known as the Archbishop's Residence, is the fourth residence of the Archbishop of Saint Boniface.
The first section was built in stone in 1864 for Archbishop Alexandre Taché, the second bishop and first archbishop of Saint-Boniface. The building replaced the residence that was destroyed on December 13, 1860 by a fire that also burned the Saint Boniface Cathedral to the ground.
This section faces the Red River and is the oldest stone habitation still standing in Western Canada. Along with Saint Boniface Cathedral, the building continues to remind Catholics and the general public that Saint Boniface is the Mother church of more than half of Canada.
When the foundation was blessed on April 17, 1864, Archbishop Taché placed a little statue of the Virgin Mary at the entrance. The statue had survived the fire of 1860. He considered it a token of the protection of Our Lady.
Construction of the 60 feet by 40 feet building was completed in April of 1865. The edifice not only housed the diocesan offices and the archbishop's apartment, but also served as lodging for 17 oblate priests.
In 1866, in a letter written to the Superior of the Oblate order, Archbishop Taché indicated that his intention was not to build "a palace". "The building is spacious and practical, calculated to serve a religious community. I have the consolation of not only being able to lodge our own clergy with whom I have the pleasure to live with, but also many priests who are en route to their own missions."
The second section, made of brick, was built in 1899 by bishop Adélard Langevin, the second archbishop of Saint Boniface. The building is the same size as the 1864 section.
During the construction of this section, between 1896 and 1902, the original pitched roof of the older section, which had four dormer windows and a central lantern, was replaced by a mansard roof, with five dormer windows.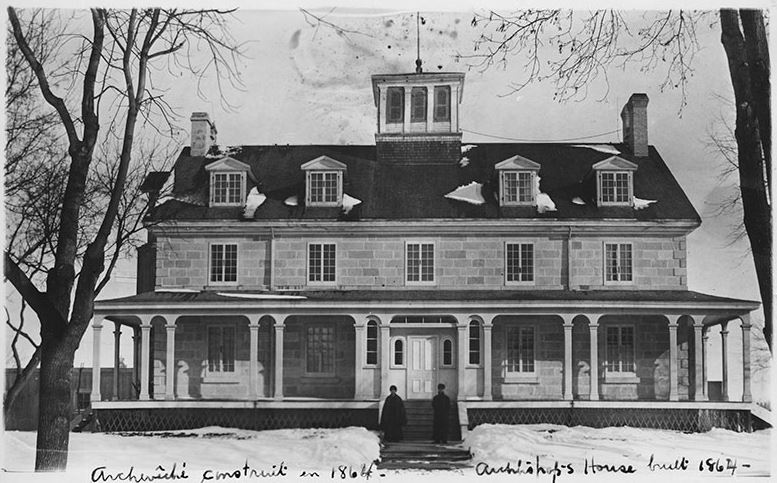 Mansard roofs are associated with Second Empire French architecture, a style that was prevalent in France, Quebec and French Manitoba between 1850 and 1900.
Most of the beautiful trees that surround the residence were planted in 1900.
The Archdiocesan Centre of Saint Boniface was renovated several times. Bishop Arthur Béliveau, the third archbishop, had the gaslight system replaced with electrical lighting. He also had the floors redone with maple parquet.
Both sections underwent a major renovation between 1960 and 1965, at the behest of His Grace Maurice Baudoux, the fourth archbishop. The woodwork and other finishing touches clearly show the unique design style of Manitoba architect Étienne Gaboury, who was largely responsible for the renovation.
In 2013 the Archdiocese replaced the entire roof of both sections. Aware of its responsibility of maintaining the historical character of this heritage building, the new mansard roof is identical to the one built in 1899, complete with wooden shingles.