Official Diocesan Logo - 2017

April 3, 2017
Dear friends,
I have the pleasure of bringing you great news: the Archdiocese of Saint Boniface has a new diocesan logo! It will be officially presented during the Chrism Mass on Tuesday, April 11, 2017.
You might be wondering, why a new logo after so many years where the diocese's letters and announcements bore the diocesan coat of arms of Bishop Provencher? We live in a time where communicating and promoting an organization and its message require an easily recognizable and powerful "marketing" tool.
A well designed logo can quickly recall to mind our diocese, its vision and its mission. We now have before us a very significant symbol which shows that our diocese seeks to be vibrant, dynamic and transformed by an ongoing renewal led by the Holy Spirit and reaches to the peripheries.
The diocesan logo is a symbol of the past and present dynamism of our Catholic faith in Manitoba, and of the desire for a future filled with a rich spiritual growth in all the faithful. This treasure of faith comes from a personal encounter with Jesus Christ, which leads us to be witnesses of love, justice and peace. The river of God's love brings us new life!
Please view below, the new logo and its description.
I invite you to welcome this logo and to use it in various celebrations and events. May it inspire pride and thanksgiving, reflection and commitment! May the logo be an invitation to unity and hope for the greater glory of God and for the coming of His Kingdom.
+Albert LeGatt
Archbishop of Saint Boniface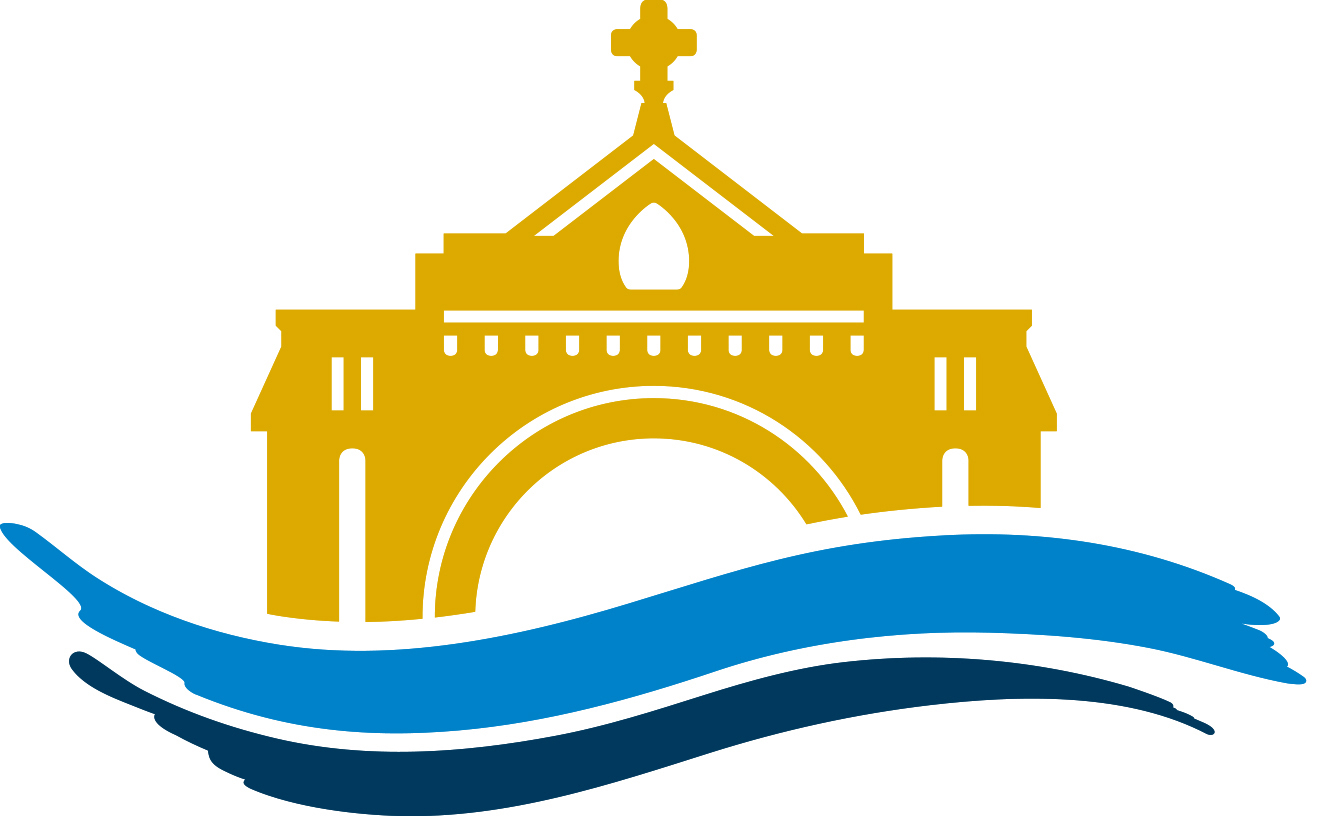 How to describe the heart of a diocese, how to reflect all the experiences and dreams of a diocese? With a diocesan logo!
Our new logo is made up of several elements. The majestic facade of our Cathedral proclaims the beauty and strength of our Church which has been here in Manitoba for 200 years. Our treasure of faith continues to inspire hope for the future and welcomes everyone.
Below the facade, the two waves symbolize the ever flowing stream of life. From the time when Father Provencher and his companions arrived at the junction of the two rivers, Red and Assiniboine, faith in Jesus Christ flows through our Manitoban land as a powerful river. The waters of our baptism carry us toward an ongoing renewal of our Church so that each Christian can be a true disciple and missionary, a witness of Jesus Christ – the Living Water who quenches the thirst of humankind.
The diocesan logo is drawn with the official colours of our diocese: yellow and blue. Yellow is the colour of the prairies which "overflow" – according to the motto of Bishop Provencher – with a bountiful harvest of faith and love. Blue represents Jesus Christ, the Living Water, the waters of our baptism and the Blessed Virgin Mary, patron saint of our diocese, Mother of God and Mother of the Church.
Message from Most Reverend Albert LeGatt,
Archbishop of Saint Boniface
New Official Diocesan Logo - April 2017
Our Archdiocese