Life of Saint Boniface
Saint Boniface, Apostle to Germany - Patron of the Archdiocese of Saint Boniface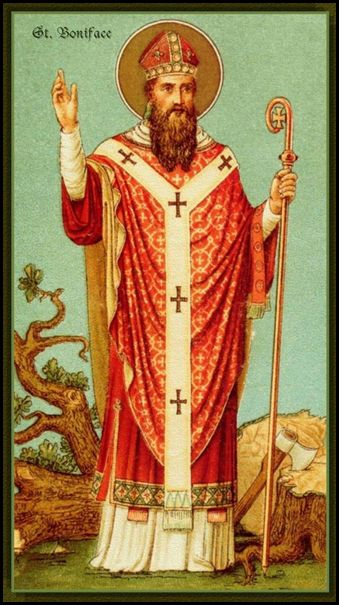 In 675, Boniface was born near Exeter in Wessex, England, under the name of Winfrith.
Even as a child he recognized his vocation; he was raised as a Benedictine Oblate. Having successfully completed his studies in Nursling, he became the director of the monastery.
At the age of 30, he was ordained priest. In 711, along with a few companions, he set out for Friesland (Holland). The following year, he journeyed to Rome. Pope Gregory II changed his name to Boniface ("one who possesses a favourable destiny") and launched him in a mission with the Germanic tribes, in Thuringia and Hesse.
In 722, the Pope summoned Boniface to Rome to consecrate him bishop. Upon his return to his mission, he began his efforts to evangelize the pagans with quite a spectacular act, where he felled the oak sacred to the god Thor, near Fritzlar.
In response to the report of Boniface's work, the new pope Gregory III invested him with the pallium; he conferred upon him the dignity of becoming archbishop.
He turned to Bavaria where he eventually installed 4 bishops in Salzburg, Freising, Ratisbonne and Passau; he returned to Rome, giving the results of his endeavours to the pope.
He then devoted himself to the reform of the Church of Gaul.
In 744, at the age of 60, he founded the monastery of Fulga. In 748, he became the archbishop of Mainz.
Despite his age, Boniface continued to think about the evangelization of the pagans. He turned toward Friesland, the first scene of his missions. In his last instructions, he wrote: "I cannot refuse this long awaited journey. My final day is nearing. Soon to be liberated from this imprisoned body, I shall leave to collect the eternal reward…"
On June 5, 754, he and his companions were massacred at Dokkam, in Friesland. The body of Boniface was taken to Fulda.
Fulda remains the religious catholic centre of Germany.