Annual Diocesan Conference

PAST EVENTS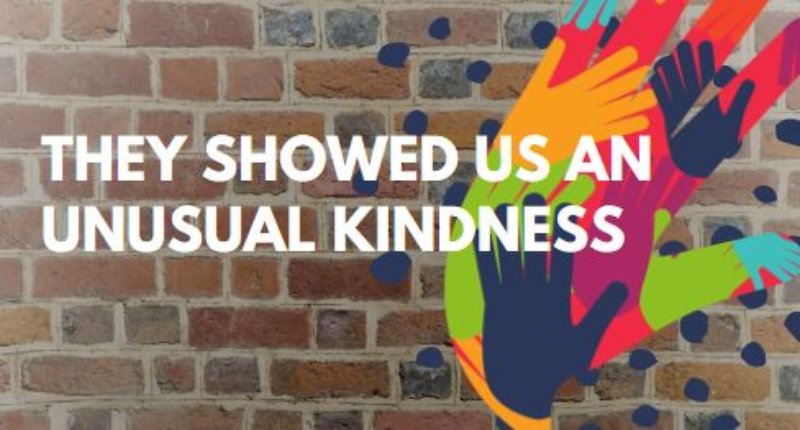 Social Justice Conference
Saturday, March 7, 2020
The Annual diocesan social justice conference will be held Saturday, March 7, at St. Boniface Cathedral in the lower level meeting room, from 10 AM to 3 PM. Registration at 9:30 AM. Our theme: They Showed Us An Unusual Kindness. Guest speakers: Hubert Pantel (L'Arche Winnipeg), Aurèle Boisvert (Katéri Food Bank), Luke Thiessen (Siloam Mission), Odette Delisle (Chez Rachel) Wilgis Agossa (L'Accueil Francophone). Admission is free. Lunch provided (Goodwill offering). Register ahead of time or at the door. For information or to register: Claude Courchaine (courchaine1@gmail.com), Tina Montemayor (monte-falcon@live.com) or Daniel Bahuaud (communications@archsaintboniface.ca or 204-894-0860). To view poster, click here.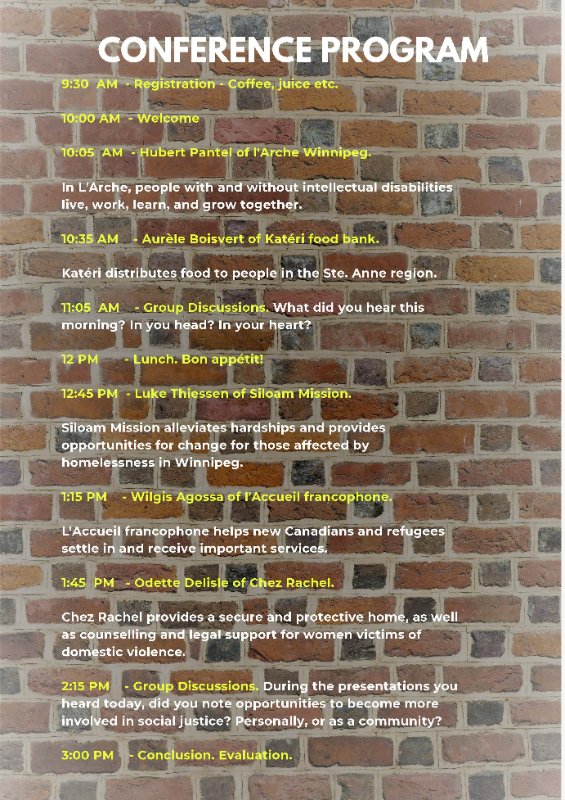 Social Justice Conference - Saturday, March 2, 2019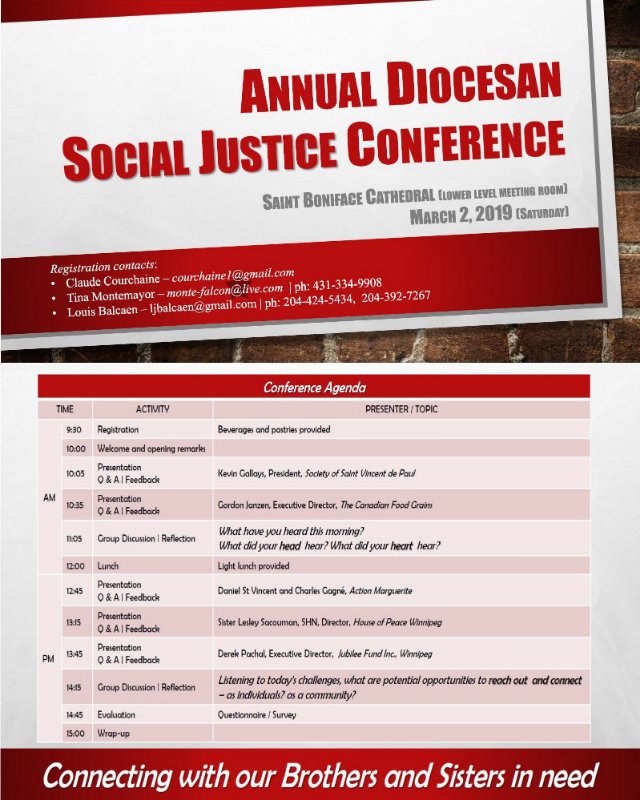 Social Justice Conference - Saturday, March 17, 2018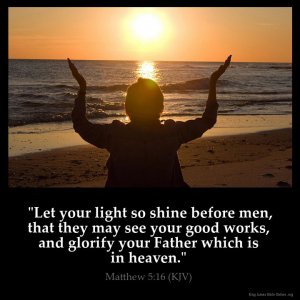 The Third Annual Saint Boniface Social Justice Conference was held on Saturday March 17, 2018 in the Saint Boniface Cathedral Lower Level Hall. The agenda featured the theme Matthew 5:16 " Let your light so shine before men in such a way that they may see your good works, and glorify your Father who is in heaven" and included speakers for different service initiatives as well as time for small group discussion for the related topics.
Archbishop Albert LeGatt began the day with his interactive presentation on "What is the Social Mission of the Catholic Church?" Led by His Grace, the social justice issues of highest concern were identified and discussed.
Other speakers included Jackie Stephen from Jocelyn House who presented the palliative care activities provided by this unique facility, and Raymond Sorin from the Centre Flavie Laurent who presented on this critical service of providing no cost goods given there to 30,000 registered families in 2017 alone. Brother Tom Novak from the Oblate Fathers of Mary Immaculate presented a fascinating factual summary of 200 years of Gospel Justice Ministry provided by the religious men and women in Manitoba.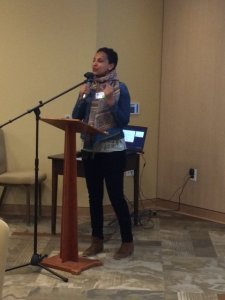 Gelila Heilu of Catholic Crosscultural Services gave a touching presentation on "The Plight of Refugees". She is also the Archdiocesan Coordinator of Refugee Services and she presented a summary of refugee myths and realities in a question and answer format, the reason for the exile, and their relatively small percentage of the overall annual Canadian immigration.
Diocesan Social Justice Awareness Day- Saturday, March 4, 2017
The 'Social Justice A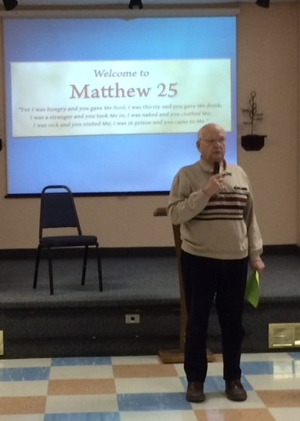 wareness Day': 'Whatsoever you did for one of these least brothers of mine, you did for me' (Matthew 25, 40) took place on Saturday, March 4th, at Christ the King Parish Hall. The primary objective was to provide information and support parish pastoral councils (PPC's) in their efforts to establish a Social Justice Committee in their parish as well as to provide a diocesan-wide connection for volunteer opportunities. The day consisted of guest presentations from Winnipeg's core programs for prison ministry, refugee programs, and youth support programs.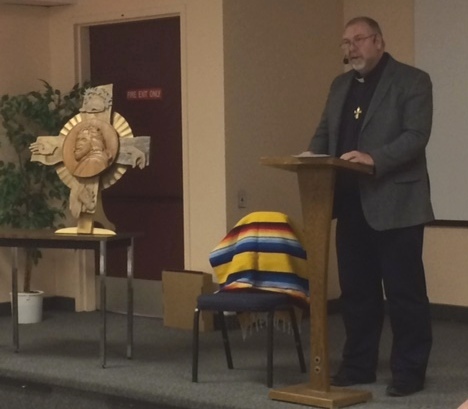 Doug Cross, ordained deacon and retired police officer, was the guest speaker and spoke of his long-time experiences of responding to homeless people. He suggested that our vision of what Jesus looks like might need adjustment in light of the homeless, amongst others. Loving them means not only seeing them as an image of Jesus, but in fact recognizing them as Jesus in our lives.
Other guest speakers included: Phil Chiappetta from RossBrook House; Kathleen Mico from Future Hope Prison Ministry; Marion Willis from Morberg House and St. Boniface Street Links; Deacon Claude Lambert from Our Place, Chez Nous. Deacon Alphonse Tran represented Archbishop LeGatt who was unable to attend. He also introduced St. Vincent de Paul charitable organization which he has actively led, based from his assignment as deacon at the Cathedral parish.
Participants felt the day was inspiring, interesting and helped satisfy their thirst for information and ways to become actively involved.