Paroisse/Parish Ile-des-Chênes - Notre-Dame-de-la-Miséricorde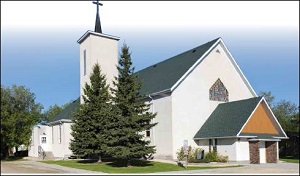 Administrateur paroissial
L'abbé Gregory Kossi Djiba
Address
453, rue Main St.
Case Postale 40, Île-des-Chênes Manitoba
R0A 0T0
Contact Number
Ph. 204.878.3359
Fax.
Email
ndm@hotmail.ca

Les personnes qui utilisent un fauteuil roulant peuvent accéder à l'église et utliser l'ascenceur situé à l'entrée de l'église.

Persons in wheelchairs have access to our church and can also use the elevator at the church entrance.
Mass Times
Sunday - 9:00 AM
Language: English
Sunday - 11:00 AM
Language: French
Saturday - 5:00 PM
Language: French
Saturday masses are celebrated from April to December.
Adoration Times
No times are currently listed
Confession Times
No times are currently listed