Divine Mercy Sunday Resources
There are many online resources to assist you in this season of Easter.
The second Sunday of Easter is called Divine Mercy Sunday, enjoy the links below!
Click here to learn what to do on Divine Mercy Sunday April 19, 2020 in these times of not being able to gather and still obtain the graces promised. (Shrine of Divine Mercy)Father Chris Alar.
Click here for "Nine Things You Should Know About Divine Mercy" from Jimmy Akin - National Catholic Register.
Walking with Purpose provides five lessons to prepare for Sunday of Divine Mercy Mass readings. This daily dive into scripture provides an opportunity to re-center each day, focusing on the overwhelming mercy of God. May this week's study will help you to live out this quote by St. Faustina: "The past does not belong to me; the future is not mine; with all my soul I try to make use of the present moment."[1]
Click here for Divine Mercy Reflection (Catholic Video) - Speaker Ken Yasinski reflects on the personal nature of God's Divine Mercy.
Click here for Chaplet of Divine Mercy: Four Promises from Jesus to Faustina (Catholic Video) - Speaker Ken Yasinski
Click here for the Divine Mercy Chaplet explained. (Catholic Video) - Speaker Ken Yasinski
Click here to listen to the Chaplet of Divine Mercy sung, this musical version was produced by Trish Short and heard on EWTN.
Click here Sr. Gaudia Skass of the Congregations of the Sisters of Our Lady of Mercy was the guest speaker at St. Mary's Church in New Haven. She spoke about the life of St. Faustina and the Divine Mercy message. 58:00 min provided from the Knights of Columbus released on March 2, 2016
Podcast with Discussion and Journal Questions
Click here for Abiding Together podcast on Divine Mercy. In this episode Michelle Benzinger, Sr. Miriam James Heidland, and Heather Khym. talk about the incredible gift of Divine Mercy!
They talk a little bit about St. Faustina and our Lord's revelations to her about his ocean of mercy.
They also discuss what a lack of trust looks like and what the stumbling blocks are to trusting in the heart of Jesus.
Discussion questions:
What struck you from the podcast?
What does a lack of trust look like for you?
Do you trust the Lord with yourself? Do you trust him with the people you love?
Where do you feel difficulty depending or relying on others?
How trustworthy are you? How can you grow in being trustworthy?
Journal Questions:
Reflect and journal about this scripture: Jeremiah 17:7-8. What does it speak to you personally?
Inviting the Lord to come with you, look at the places where you find it difficult to trust? What lies did you believe that made trust difficult for you?
What new way is Jesus trying to show you? How can you cooperate with him?
What does it mean to say, "Jesus, I trust in You"? Where do you say "Jesus, I trust in You, except…"
Quote to Ponder - "There is nothing more man needs than Divine Mercy – that love which is benevolent, which is compassionate, which raises man above his weakness to the infinite heights to the holiness of God." - St. John Paul II Scripture for Lectio Divina - "But blessed is the one who trusts in the Lord, whose confidence is in him. They will be like a tree planted by the water that sends out its roots by the stream. It does not fear when heat comes; its leaves are always green. It has no worries in a year of drought and never fails to bear fruit." - Jeremiah 17:7-8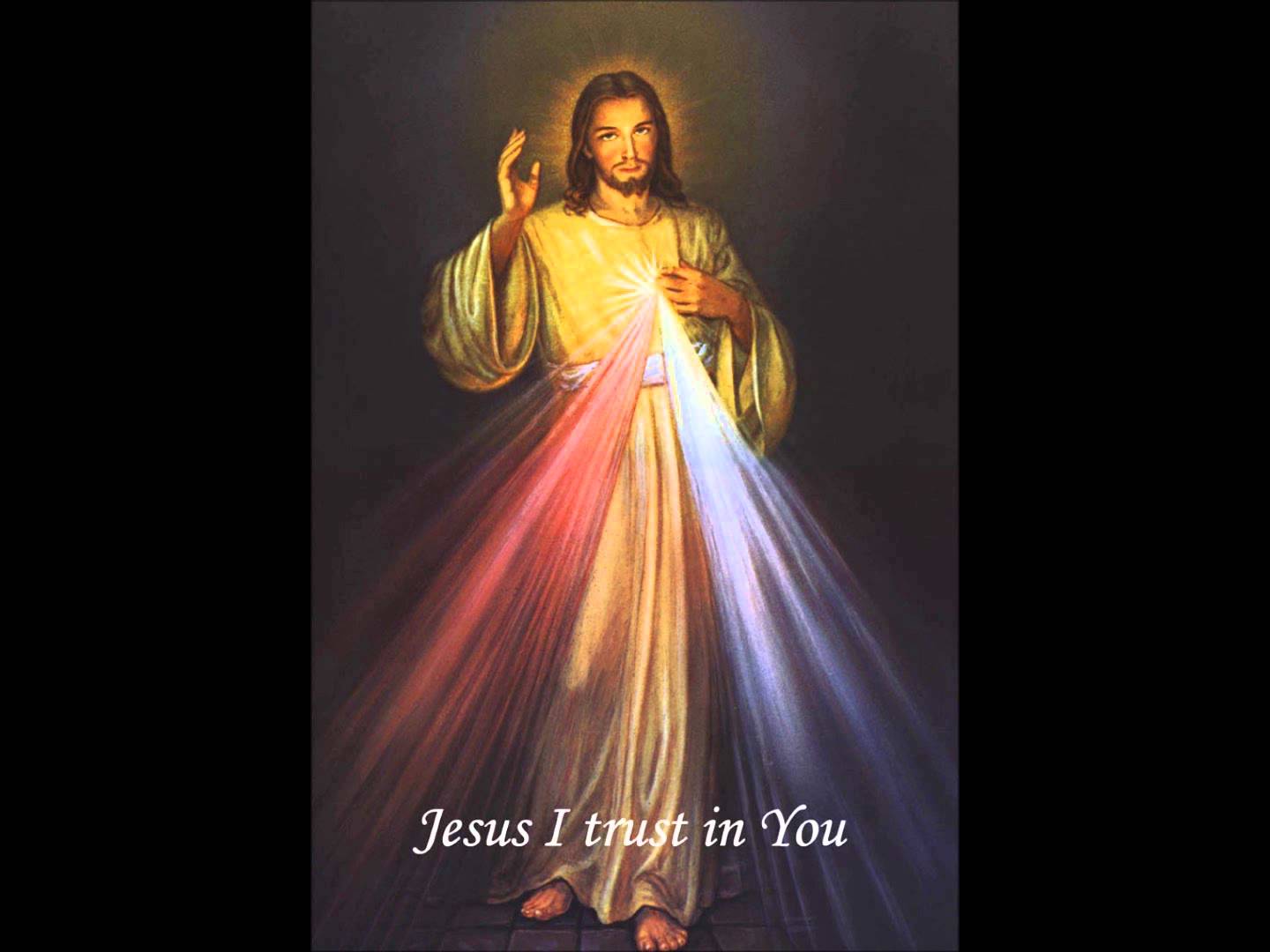 Jesus I Trust in You!
Extra Children Resources
Click here for EWTN's My Catholic Family: Episode Saint Faustina A portrayal of the life of Saint Faustina, emphasizing the devotion to the Divine Mercy. 23:27 min
Click here for CatChat Virtue Video about Trust - Treasures of Faith Join Jerome and Luc in this awesome adventure as they learn about trusting in Jesus who is "the way, the truth and the life". 6:47 min
Click here for Holy Heroes Video Gospel Reading: John 20: 19-31 for school aged children
(note it refers to going to Confession, however during a time of physical distancing children may make a prayerful act intention to of penance and desire to not sin) 2:43 min
Click here for Holy Heroes Video with words one decade of Divine Mercy Chaplet for children
Click here for Holy Heroes Video to read together Did You Know?: St. Faustina Kowalska 2:51 min
Crafts, Colouring and other Creative Resources
Click here for a number of creative ways to engage with the Divine Mercy Devotion, Jesus I trust in You! from Catholic Icing
Click here for Divine Mercy Art Page from Look to Him and Be Radiant
Click here for printable Divine Mercy prayer cards to colour from Look to Him and Be Radiant
Click here for printable colouring page from Real Life at Home
Click here for printable colouring page from Life, Love and Sacred Art
Catechetics