The Good Shepherd Campaign 2018

Let's Build, Today and Tomorrow, on the Shoulders of Giants
The 2018 Good Shepherd Campaign is an opportunity to extend our Christian service by helping to raise $250,000 to support ongoing diocesan priorities. 100% of your gift goes toward:
The seminarian education and internship program
The efforts to invite, welcome, support and help to integrate priests who come to our diocese from other countries (nearly 40 international priests serve the Archdiocese of Saint Boniface)
The ongoing professional development of clergy
Adult faith education, in particular the three-year Nathanael adult faith formation program (recruitment in 2018 for the 2019-22 program)
Archbishop LeGatt reminds us: "The formation of men and women, who answer and develop their baptismal calling to serve our parishes as missionary disciples, is essential to the future of our Archdiocese."
---
Dear faithful of the Archdioc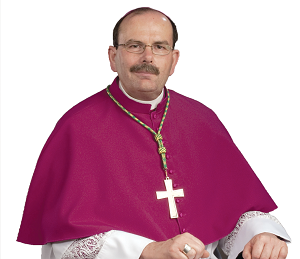 ese of Saint Boniface,
In 2018, we celebrate the 200th anniversary of the Roman Catholic Church in Western and Northern Canada. The liturgical and cultural events held to mark this anniversary help us remember the devotion and the loyalty of our predecessors. They inspire us to continue building, today and tomorrow, on the shoulders of giants in proclaiming the Good News, as did Father Norbert Provencher and his companions.
Currently, many seminarians commit themselves to serve the Lord in the Church of Saint Boniface. A gift to the Good Shepherd Campaign provides them with some financial support and makes ongoing training available to local clergy and international priests striving to adapt to a new home. Campaign funds also support Nathanael, a three-year formation process available to women and men aiming to answer and develop their baptismal call to service.
All those persons have so much to give to our Church, today and tomorrow – let us accompany them in their journey and support them: "[…] so we, who are many, are one body in Christ, and individually we are members one of another." (Saint Paul's Letter to the Romans 12:5)
In closing, I invite you to give generously to the Good Shepherd Campaign and to pray for our missionary disciples who are the future of pastoral work in our Archdiocese. In this way, you too will take on an important role in preparing for a tomorrow filled with justice, peace and the love of God.
Sincerely, in Christ Jesus, the Good Shepherd,

Albert LeGatt
Archbishop of Saint Boniface
---
Meet our Seminarians for the Archdiocese of Saint Boniface 2018-19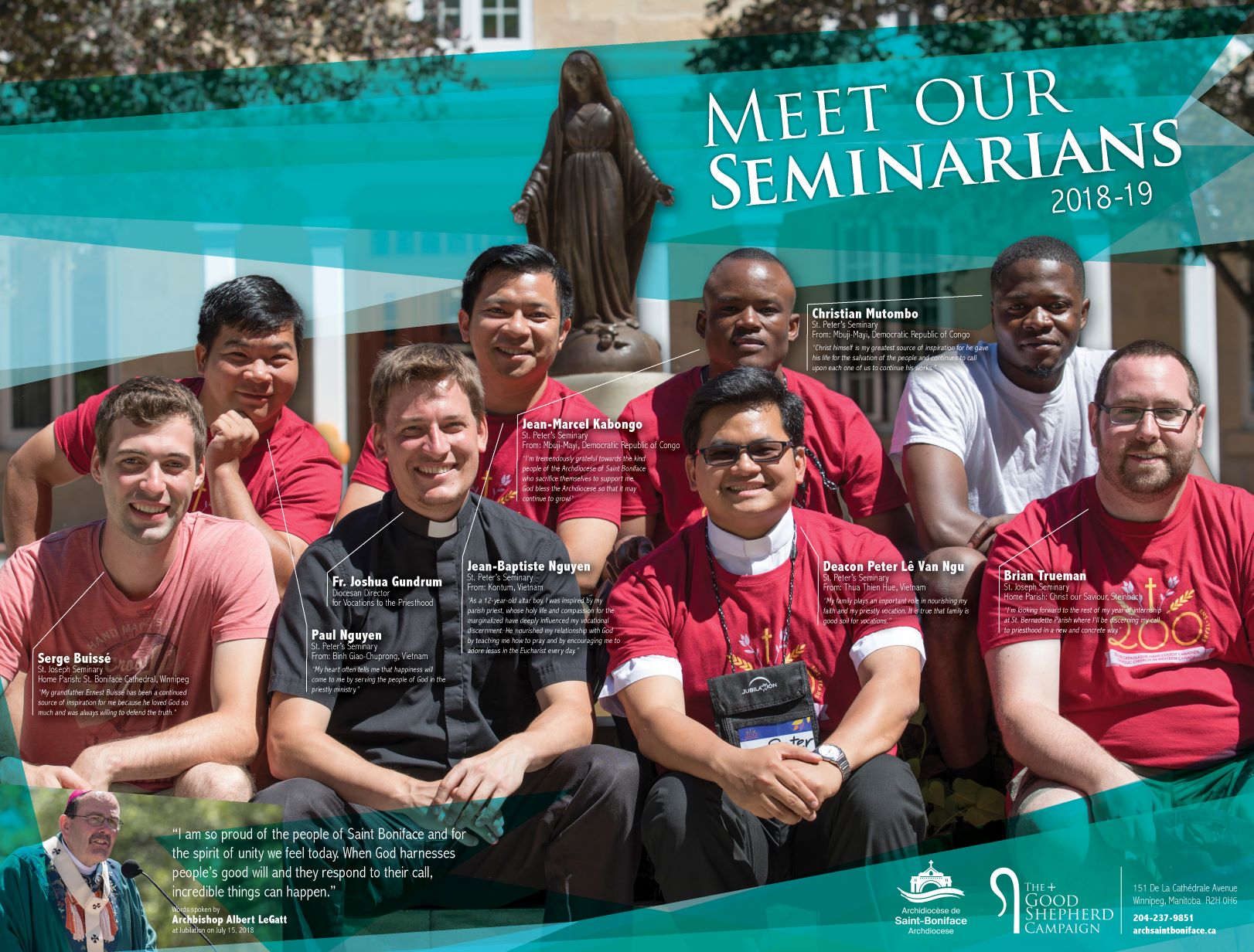 "Vocations are born in prayer and from prayer; and only in prayer can they persevere and bear fruit.ˮ (Pope Francis)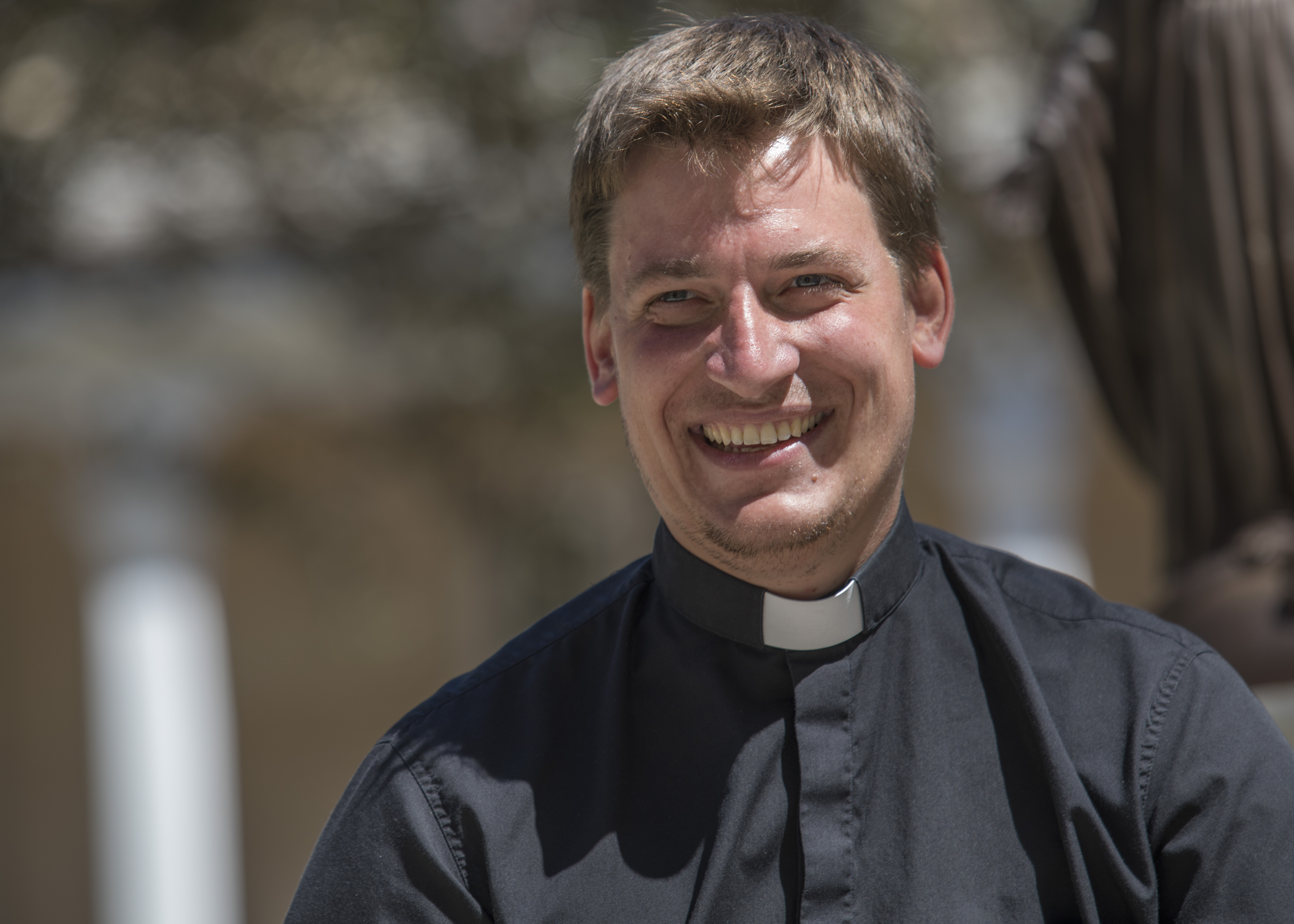 Are YOU interested in learning more about a PRIESTLY VOCATION? Please contact Fr. Joshua Gundrum, Diocesan Director of Vocations to the Priesthood, at vocations@archsaintboniface.ca.
In 2018-19, two seminarians are doing their internship: Brian Trueman at St. Bernadette Parish and Christian Mutombo at St. Stanislaus Parish. Listen to their testimonials:
We share with you a prayer for vocations composed by Christian.
---
Nathanael has been offered in the Archdiocese for 30 years. Nearly 400 missionary disciples have received this formation. Imagine the impact in our parishes! In June of 2018, over 40 women and men finished the three-year Nathanael formation. Listen to the testimonials of Kathryn Madden (English), Sylvia McPherson (English), Sally and Glenn Usher (English), Marie-Paule Chartier (French), Maryse Chartier (French) and Nicole Gosselin (French).
If you are interested in learning more about the 2019-22 Nathanael formation program, please contact the English Program Coordinator, at pastoral@archsaintboniface.ca or Diane Bélanger, French Program Coordinator, at dbelanger@archsaintboniface.ca.
---
Good Shepherd Campaign Committee: Gisèle Barnabé, Richard Fréchette, Fr. Joshua Gundrum, Gabrielle Marion, Suzanne Munroe, Diane Wallace, Katelyn Sutton
For more information on the Good Shepherd Campaign:
Julie Paquin
jpaquin@archsaintboniface.ca
204-237-9851

Why do we donate?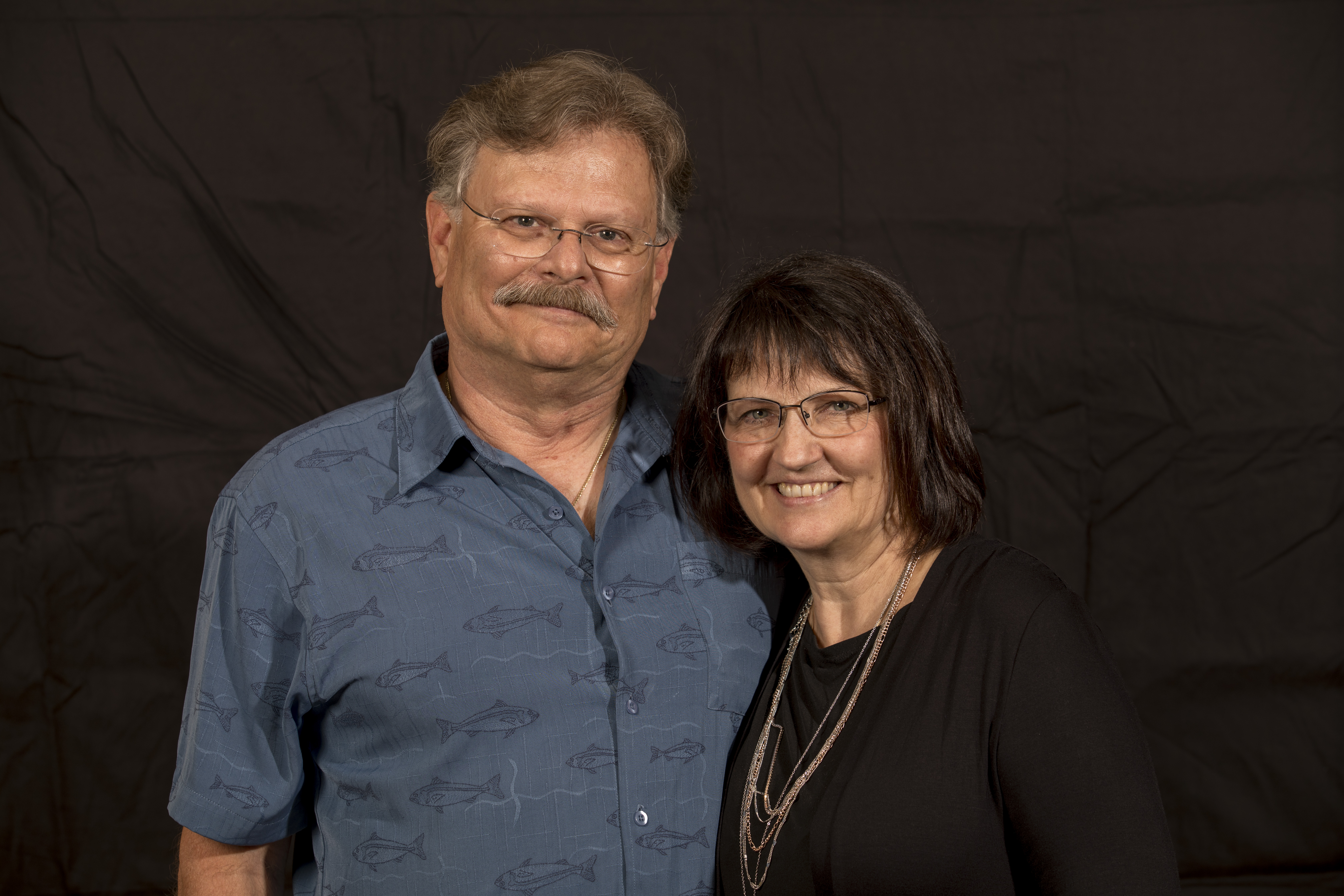 Sally and Glenn Usher
Nathanaël Alumni
Nathanael first seemed like a daunting commitment, but three years flew by. Through this life‑changing formation, we learned so much about the Scriptures, prayer, our Church and ourselves, and how to become missionary disciples. We discovered our gifts and how to use them. . . and how God truly loves us and nurtures his relationship with us, helping us find healing, joy, peace, and confidence. Filled with adventure, our learning has just begun!
Our gratitude towards the Archdiocese for Nathanael is profound. What a wonderful formation and excellent presenters! Don't let fears, lack of time or obstacles keep you from joining in 2019.
The impact of exceptional adult faith formation reverberates in our parishes. Please consider making a gift to the Good Shepherd Campaign: it will support the formation of lay people, of seminarians and of our dedicated clergy.
God bless you!
Sally & Glenn Usher
Christ Our Saviour Parish, Steinbach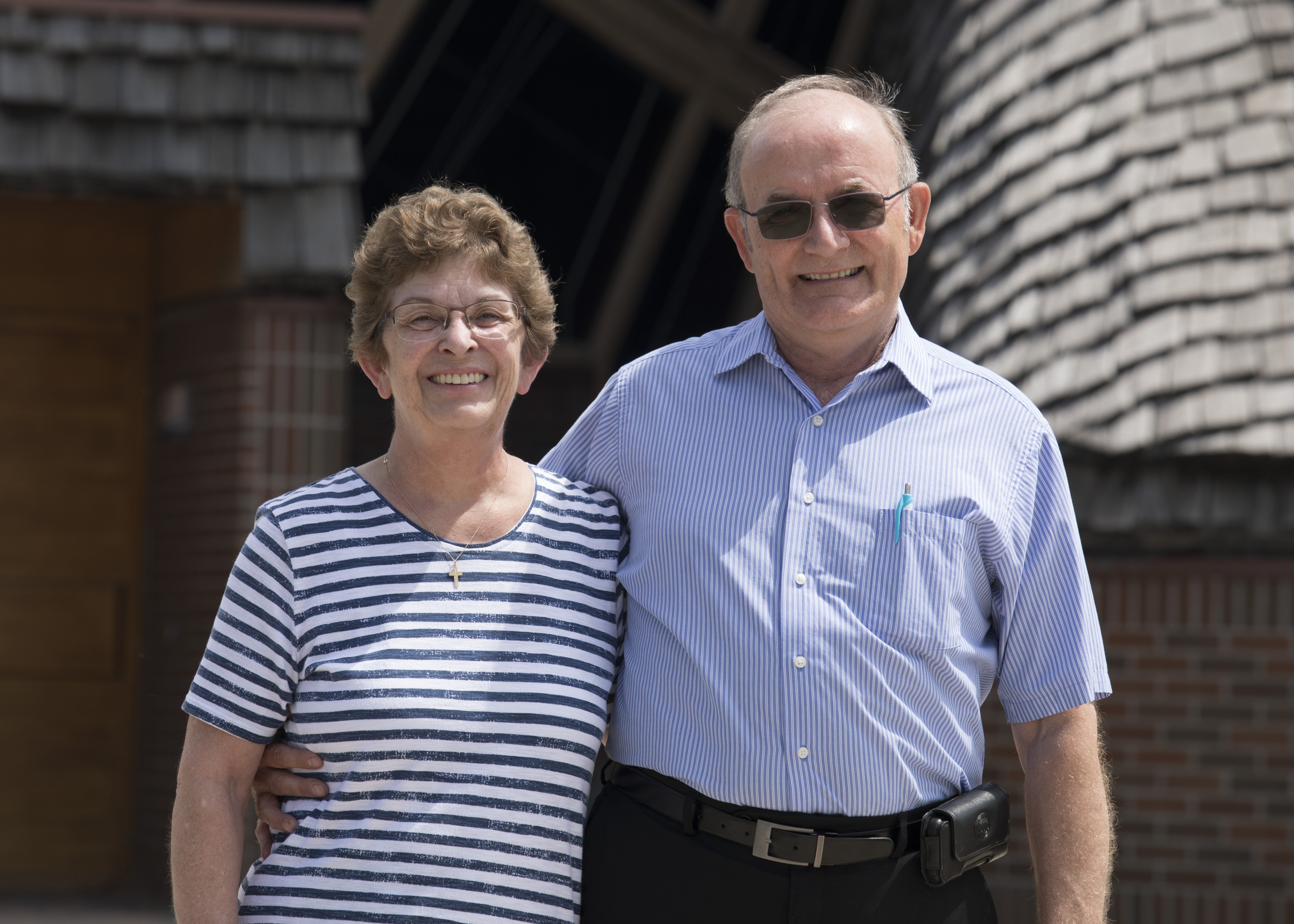 Nicole and Joël Gosselin
Nathanael Alumni
Our parish is our Christian family and the Archdiocese is our Christian community. We have family celebrations, like we did for the 50th anniversary of the construction of our parish church and for the diocesan bicentennial. We also work together for the common good. Surprisingly, the gift of self is the nicest gift we can offer ourselves — it is for us a truly fulfilling experience.
We are all heirs of the kingdom, blessed with talents and charisms. If, by using these gifts, we have accumulated a treasure, where will we invest? Only in RRSPs? Or in our sisters and brothers, missionary disciples, who need our support for their initial or on-going formation as priests or through Nathanael?
A gift toward the Good Shepherd Campaign is an expression of solidarity with those who dedicate themselves to the vitality and renewal of our Church. Be generous and help us reach our goal of $250,000.
United in faith,
Nicole et Joël Gosselin
Précieux-Sang Parish, Winnipeg