Facebook Video Messages from Archbishop LeGatt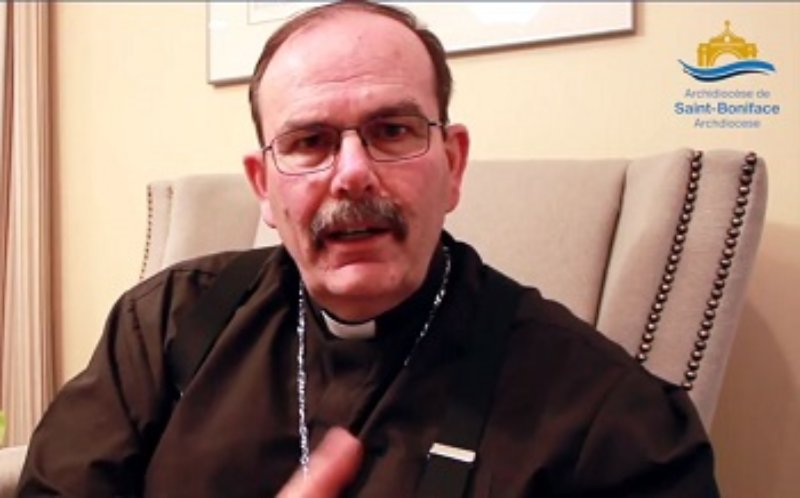 Bishop LeGatt Video Message - Alleluia! He Is Risen! 2021 Easter Message

There is no denying the hurt, the pain, and the suffering present in our world today. But as we celebrate this Easter season, and as we jubilate over the Lord's resurrection and the new life offered to us, let us be like the crocus: hearty, and a sign of beauty and love. Truly, Christ has risen. And he is present in our lives, sometimes subtly, but always truly. Let us reflect on the many small signs of beauty Christ gives us, and let us also be, likewise, like the crocus for those around us. Alleluia! Alleluia! Alleluia!


To view the video, click on photo.
---

The past year has been defined by challenges and acute suffering as a result of pandemic and world instability. Many have lived through particularly trying moments in this past year: mourning the death of a loved one or suffering from sickness, alone, or experiencing emotional distress, alone, or even not being able to live life's high points as they would have loved to. We are all living this pandemic and its effects in different ways, but one particularity that is underscored with all is this continued and sometimes overwhelming sense of solitude: of loneliness.
Likewise, Christ was also alone on his way to Calvary. He accepted his cross, and until he breathed his last, he was alone. Let us therefore journey through this holy week, even if we are alone, with Christ, in the isolation and solitude that were his final hours. Together, albeit physically apart, let us hold each other in prayer as we all journey through these high holy days. Christ truly walks with us in the silence of our hearts. And let us not forget Mary, who also journeyed silently with Jesus on his way of the cross, and who also walks with us, intercedes for us, and comforts us. This will truly be a particular Holy Week, which we will never forget. May we, in these times of pandemic and of isolation, be united with Christ, in the aloneness and the silence of the cross, in hopes of the resurrection.
To view the video, click on photo.
---
Blessed Are the Meek, Blessed Are the Peacemakers

In this video, Archbishop Albert discusses issues surrounding our rights. The pandemic has indeed brought many issues surrounding rights to the fore, and in the mist of this, we must, from a Christian perspective, seek to find a balance between our personal rights, and those of the collectivity. Indeed, Christ invites us to put others' rights before our own, others' needs before our own, and others' desires before our own. We know the negative impact COVID has had on our world and in our communities: we see this impact in numbers presented every day and in the suffering of many. But we will never know or fully appreciate the positive impact that our self-sacrificial choices, daily, make in the lives of those around us: your proactive choices during this pandemic may have saved lives, which you will never know. Let us continue to meditate this issue of rights and freedoms, hard fought by our forebears, and which we defend today, not only for ourselves, but for the good of all.
To view the video, click on photo.
---
Saint Joseph, A Patron for All

This year's feast of Saint Joseph, celebrated on March 19th, took on a much broader dimension this year, within the context of the year dedicated to Saint Joseph, proclaimed by Pope Francis. Joseph, principal patron of the universal Church, is also an example par excellence for us through our Lenten journey: his quiet, humble, yet strong and diligent disposition can serve as an example for us of how we can continue to grow towards God.
To read Patris Corde, Pope Francis' Apostolic Letter for this year dedicated to Saint Joseph, click here.
To view the video, click on photo.
---
The Lord Reaches Into our Suffering and Brings Us Up
Truly, the pandemic has impacted all of our lives, in many different ways. After a year since the start of more intensive public health measures, many are feeling like they've hit a wall, and are having trouble finding #hope. In this week's message, Archbishop Albert takes a moment to speak to those who may be particularly suffering from the effects of #depression, #anxiety, or other mental health difficulties. Truly, our Christ is walking with you. Our Christ who gave the ultimate sacrifice on the cross joins your suffering, and loves you infinitely more than you know. May his light continue to fill the darkness in our world, and continue to fill your heart with hope, even amid darkness.
PLEASE SHARE! ➡️ Do you or a loved one need support? Reach out today: Sara Riel Inc. 24h Support Line 204-942-9276 Suicide Prevention Line 877-435-7170 Kids Help Phone 800-668-6868 Aulneau Renewal Centre / Centre de Renouveau Aulneau www.aulneau.com
To view the video, click on photo.
---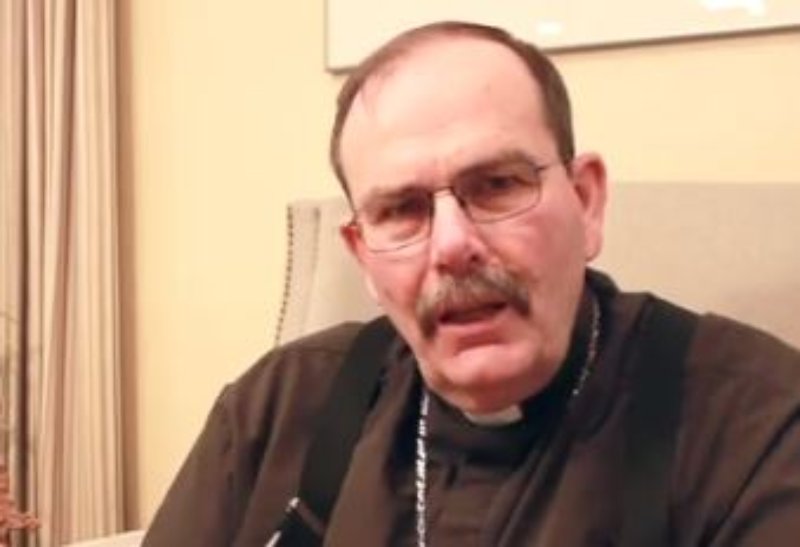 The Archdiocese's Continued Response to Public Health Measures
As the realities surrounding the pandemic continue to evolve, and as we respond to this ever-changing situation, the Archdiocese remains in constant contact with the provincial government and public health authorities to determine the best course of action, day by day.
In this week's message, Archbishop Albert shares about how the Archdiocese continues to collaborate with authorities, ensuring to always maintain the most possible in terms of services and worship, while also maintaining the safest and healthiest possible environment for the entire community, especially the more vulnerable. This is a delicate balance, in which we collaborate also with all the faithful of the archdiocese, to continually respond in the best way, with Christ at the center of our ongoing response. As we continue our Lenten journey, let us pray for our world, and also for the authorities who are charged with assessing and responding to this evolving situation.
To view the video, click on photo.
---
Bishop LeGatt: Lent, A Time to Die to Oneself
This week, we are once again embarking in the holy season of Lent: a season of prayer, fasting and almsgiving, as we prepare our hearts to celebrate the Paschal mysteries. But this year, we have lived an entire year of the sacrifice and fasting of Lent, and we have given up a lot more than just sweets or things of the like. As we continue in fraternal charity and love to respect sanitation requirements, let us continue to die to ourselves, and in doing so, resemble our Christ on the cross more and more, who freely gave his life for us.
To view the video, click on photo.
---
Bishop LeGatt: Let Us Pray for Each Other
These past weeks have also been particularly heavy for the archdiocesan family, as we mourn the loss of 4 of our priests: Frs. Owen Steeves, Angelo Pinto, Richard Machura, and most recently, we unexpected lost Monsignor Albert Fréchette on February 4th. These losses have deeply touched our Archdiocesan family. Archbishop Albert shares personally how these losses have marked him, and also takes a moment to think of all those who have similarly lost loved ones recently, and who cannot gather to mourn together. Let us pray for these souls, and also pray for one another. As the pandemic continues and more major life events are missed, we must now, more than ever, love and support one another.
To view the video, click on photo.
---
Ordinary Time: Far from Ordinary!
We are now in Ordinary time, according to the liturgical calendar. But this period of time - the longest period of the liturgical year, stretching for a total of 32 Sundays - is far from ordinary or boring: rather, it is ordained. This is time to bring Christ into our everyday lives, into our everyday joys and toils, for us to daily come to know Christ, to be with Him, and He with us. With Him, through this pandemic, not only will we get through it, but we will bring the Truth of what we live, as Christians, into the world: not only in the hilltop moments that punctuate our lives (as the liturgical calendar), but in the beauty of everyday life.
To view the video, click on photo.
---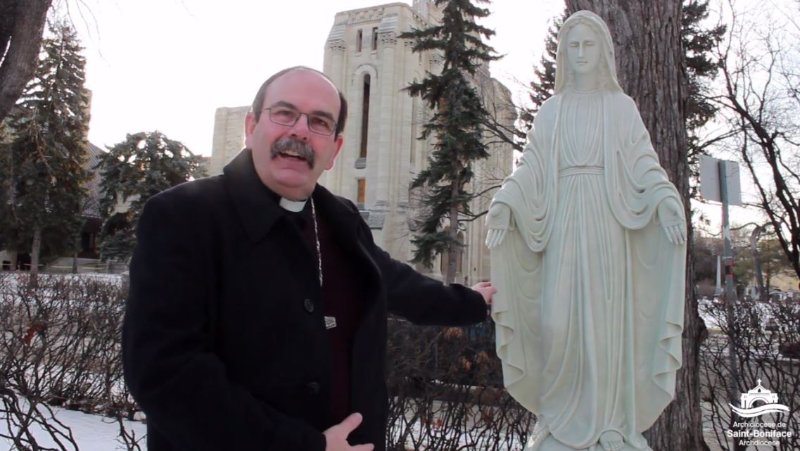 New Year - 2021 is a Year for Resilience

Truly, 2020 has been a year we will never forget. And all will not change in 2021. In his New Years message, Archbishop Albert invites us to dig deeper in 2021, and find new sources for our hope, especially within our family.
Truly, Christ is with us. From all of us at the Archdiocese of Saint-Boniface, we wish you and yours a truly blessed 2021.
To view the video, click on photo.
---
"That they may be one."
Following the week of prayer for Christian Unity, which spanned from January 18th to 25th, Archbishop Albert invites us to reflect on what Christian unity truly means today. Please take some time to pray, that we may be one, as God is one. May we find strength in our common ground, and continue, together, to build up the Kingdom of God.
To view the video, click on photo.