Office of Vocations - Permanent Diaconate
*N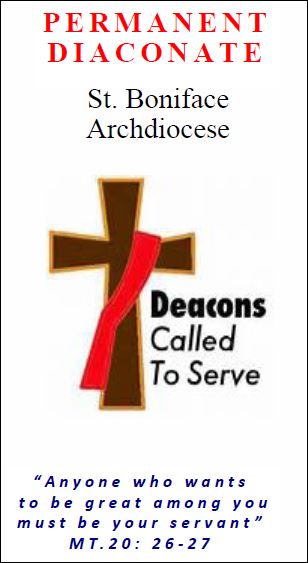 EW* Permanent Diaconate Formation Program Archdiocese of Saint Boniface
The Archdiocese of Saint Boniface offers a Permanent Diaconate Formation Program. The diaconate is a distinct order within the church and is open to both single and married men as a permanent ministry. "The permanent diaconate manifests, through its threefold ministry of Word, Liturgy and Charity a preferential love for the poor, and so serves as both exemplar and animator for the Church's own baptismal mission of compassion and loving service ( diakonia ) in the world." Aspiring applicants are asked to contact the Director of Permanent Diaconate Formation, Deacon Doug Cross, diaconal.formation@archwinnipeg.ca. View brochure.
"The deacon's ministry is meant to be a 'driving force' for the Church's ministry of service. By ordination the deacon is configured to Christ in his servant role and is meant to be a living sign of the servant hood of his Church."- Saint John Paul II
Are you considering the perment diaconate?
We invite you to view this informative video on the diaconate, with Archbishop Albert LeGatt
and former Archbishop of Winnipeg, James Weisgerber.
---
Presentation, January 20, 2011 - "The Diaconate in Manitoba," by Archbishop Albert LeGatt (Saint Boniface) and former Archbishop of Winnipeg, James Weisgerber. Read message.
Formation to Permanent Diaconate
Director:
Deacon Doug Cross, Archdiocese of St. Boniface

Committee:
Deacon Gilles Lorteau, Archdiocese of Winnipeg, Chair
Deacon James Frater, Archdiocese of St. Boniface
Fr. Mark Tarrant, Archdiocese of Winnipeg
Deacon Michael Thibert, Archdiocese of Winnipeg
Vocations