Pastoral (Quinquennial) Report January 2006 - December 2015
Message of Most Reverend Albert LeGatt, Archbishop of Saint Boniface on the occasion of his « ad limina » Visit to the Holy Father, March 27 to April 2, 2017
View video 6:18
To read the complete report, click on cover page: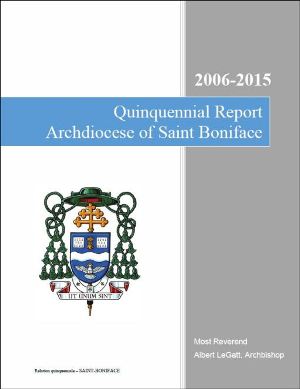 Appendices to the report:
A. Pastoral Message of Archbishop Albert LeGatt delivered on the Second Sunday of Lent (March 20, 2011)
B. Action Plan 2013-2018: Spiritual and Pastoral Renewal of the Archdiocese of Saint Boniface
C. Consultation, Communication and Diocesan Services Flowchart
D. Questionnaire for the Canonical Pastoral visits: Objectives, Preparation and Activities of The Pastoral Visit of The Parish
E. Statistics - Sacremental Life: 2005 and 2015 (bilingual document)
F. Consultation on The Permanent Diaconate in Manitoba,by Archbishop Albert LeGatt (Saint Boniface) and Archbishop James Weisgerber (Winnipeg). Read message.
View video 11:19
G. Diocesan Catechetical Policy
H. Video Saint-Boniface Cathedral, 2016
Citizens of Winnipeg, from all cultures and faith traditions, talk about the importance of the Saint Boniface Cathedral for the City of Winnipeg, as a meeting space and source of initiatives for the common good and the harmony between all.
View Bilingual Video
I. Financial Statements of the C.A.C.R. of St. Boniface for the years ending: 2014 ; 2015 ; 2016.