New Evangelization Summit (NES) 2016
The New Evangelization Summit - April 15 & 16, 2016
1 - View details below or click here.
2 - PRE-REGISTRATION REQUIRED
To pre-register online, click here. (click on 'Get Ticket Information' on NES Home Page).
3 - View the document: 'Bring Your Team - Plan for Maximum Impact in Your Parish', click here.
---
To print poster, click here.
WHAT: THE NEW EVANGELIZATION SUMMIT 2016 inspiring Catholics Simulcast
WHERE: Simulcast from Ottawa. Broadcast out to 29 different locations across North America including Winnipeg at Précieux-Sang Parish, 200 Kenny Street, Winnipeg, MB R2H 2E4
WHEN: April 15 & 16, 2016: registration for 7 PM start to 9:30 PM; Saturday, April 16 - 8:15 AM to 4:15 PM
WHO: All Catholics: Pastors, Parish Life Directors, Parish Council, Lay Ministry Leaders, Missionaries, and the Lay Faithful – will benefit immensely from this powerful opportunity to be further equipped in the fundamental mission of the Church. Approximately 5000 like-minded Catholics from across the continent will be united in one goal – to be formed as evangelists and be part of a network of Catholics evangelists.
WHY: Inspire, equip and connect
To provide inspiration, encouragement, training, practical wisdom and resources on how Catholics can effectively evangelize so that together we can grow in our capacity to share the love of Christ with others who do not yet know Him.
The event w
ill feature the local praise and worship team Illuminate. On Friday evening, after the broadcast, Illuminate will lead a time of worship and adoration.
GUESTS: Leaders in The New Evangelization
Sherry Weddell, Author, speaker, leading thinker on evangelization, and Co-Director of the Catherine of Siena Institute; Conference Talk: Parish Renewal: The Fruit of Forming Intentional Disciples
Christopher West, Best Selling Author, Speaker, Teacher and World-Renowned Expert in John Paul II's Theology of the Body; Conference Talk: Theology of the Body and the New Evangelization
Dr. Peter Kreeft, Convert, philosopher, author, professor; Conference Talk: The Three Big Questions
Angele Regnier, Co-founder of Catholic Christian Outreach; Conference Talk: Actually Evangelizing - Best practices in sharing Christ so that people can respond
Fr. Raniero Cantalamessa, Preacher to the Papal Household (via link from Rome); Conference Talk: The Holy Spirit and the New Evangelization
Bishop Christian Riesbeck, Auxiliary Bishop of the Archdiocese of Ottawa; Conference Talk: Key Principles of Parish Renewal: A Pastor's Experience
Michael Dopp, Founder of Mission of the Redeemer Ministries &the New Evangelization Summit; Conference Talk: Welcome to the NES 2016 & Living our Mission
INVESTMENT: $60 lunch and snacks provided. PRE-REGISTER ON-LINE: click here.
NES Testimonies
Posted June 2, 2015
Are You Keeping the Faith? Well, You Shouldn't! Yo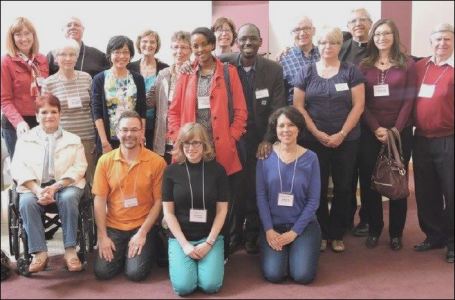 u Should be Giving it Away!
by Marilyn Hendzel
On April 24th and 25th, 23 enthusiastic St. Tim's parishioners were part of the 170 enthusiastic participants from parishes in the Archdiocese to attend the New Evangelization Summit. What did we learn? Read more.
The Archbishop of Saint Boniface speaks about the New Evangelization Summit
which was held on April 24 & 25, 2015.
Click on video, to see and hear Michael Dopp, one of the conference speakers.
FIRESIDE CHAT
Saturday, March 5, 2016 at 7 PM, St. Emile Parish, 556 St. Anne's Road, Winnipeg MB R2M 3G4
So… a year has gone by and we are getting ready for the NEW EVANGELIZATION SUMMIT 2016.
This CHAT will be another stepping stone, a chance to get together and share what has been happening since CHAT 2015.
Come & hear exciting news about what has been happening in Holy Cross Parish and the French Urban Region. Bring your story in a shared conversation with others.
Add your log to the fire. How can you start a fire in your parish?
What ONE thing inspired you to action for the New Evangelization?
Click here for poster.
Evangelization