Parish Liturgy Survey 2014
1- Archbishop LeGatt's Invitation Letter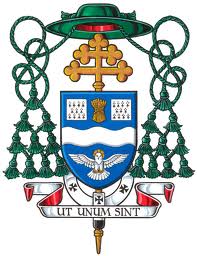 Bureau de l'Archevêque / Archbishop's House
Office of the Archbishop
Archidiocèse de Saint-Boniface Archdiocese
September 5, 2014
Dear Priests, Parish Life Directors, Parish Council Chairpersons and Liturgy Committee Members,
Our liturgical celebrations involve the entire faith community – presider, liturgical ministers and the entire assembly. Together, in the way best suited to their particular situation, the Faithful in every parish are called to participate in our communal celebrations. Some may assume roles in the planning of the celebrations and in doing so, need a solid grounding in the liturgical principles and practices of our Church in Canada. Our shared goal must be to bring forth the richest experience of prayer for those gathered in the name of Jesus Christ.
Each parish will have its strengths in terms of their liturgies and there will always be areas in which we can deepen our knowledge of the liturgy and hence, our life as the worshipping People of God. Periodically, we all need to stop and reflect on what and how we are doing, assess old habits, and seek ways to refresh our actions and respond to our contemporary world yet remain faithful to the Church Tradition. So it is with our liturgical life.
Included in the Archdiocese of Saint Boniface Spiritual and Pastoral Renewal Action Plan is the mandate to enrich the liturgical life for all the faithful in the diocese. To address this mandate, two committees have been formed (one for the Francophone and one for the Anglophone parishes) and given the task to provide resource material and liturgical training opportunities for the faithful. This past January, the Committee for Formation in Liturgy in English (https://www.archsaintboniface.ca/main.php?p=241) began its work and has now provided a variety of basic resources and links related to various topics in liturgy on the new diocesan website (https://www.archsaintboniface.ca/main.php?p=243 ). In addition, a resource centre (Room B56 in the Pastoral Centre) has been organized with a variety of material that may be viewed or taken out on loan (listings are available through the Resource Library link (https://www.archsaintboniface.ca/resources/en/ ). I encourage you to have a look at the material on the website and to consider what additional material and formats you would be interested in accessing.
In order to respond to the needs of the faithful in terms of the topics and formats for resources and training, the committee is requesting that parishes complete the attached survey. It is with this information that the committee can pursue and deliver the workshops and material that are identified as priorities in regions and parishes throughout the dioceses.
I encourage each parish to take the time together with Pastors, Parish Pastoral Council, and Liturgical Committees to reflect on the strengths and needs in terms of parish liturgical celebrations and respond to the survey questionnaire. Additional comments may be directed to the Committee at any time by emailing stbonifaceliturgy@gmail.com .
Please take the short time needed to discuss and fill out this survey for your parish. We ask that this survey be completed and sent in by November 1st at the latest.
Together we wish to grow in our experience of parish liturgies that give praise and honor to God while nourishing the baptized, meaningfully engaging the visitor and the stranger, and uniting all who cross the threshold of our churches that all might then go out to proclaim and build the Kingdom of God.
Thank you for your cooperation and your commitment to our Church's liturgical life, the "source and summit" of all our Christian life.
Sincerely in Christ,
† Albert LeGatt
Archbishop of Saint Boniface
Click here to read letter in PDF format.
2- Liturgy Survey Instructions. Click here to view document.
3- Liturgy Survey for Parishes. Click here to view document.
To view current resources, click here.