Associated Ministries
Catholic School of Evangelization
The Catholic School of Evangelization (CSE) Inc. is a lay ministry focused on living the Gospel in community and proclaiming it through the ministry of evangelization. We are leaders in the new evangelization; We invite young people to know and follow Jesus.
Illuminate is a ministry centered on adoration of the Holy Eucharist. We hope to invite people of all ages from across Manitoba to worship Jesus in the Blessed Sacrament, and come together as one Catholic Church.
The goal of this ministry is to encourage people from all walks of life to enter into a real and intimate relationship with Jesus through adoration and worship. Reconciliation and prayer ministry will be available to help bring those attending into a personal encounter with Christ. We envision, as a fruit of this ministry, that a strong community of Catholic believers will be united and grow throughout the province. Our hope is that they may bring Jesus into their world to be a 'shining light in the darkness'.
The ministry event will occur once a month a Friday evening. We will move to a different parish each month in order to build community throughout the province.
Spirit Night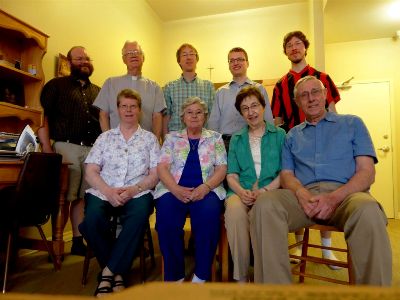 Would you like to clarify and deepen your faith, share your faith, find and give support in a relaxed atmosphere? Spirit Night offers you this, every last Saturday of the month. Interested? Come and join us and learn more! Feel free to bring along friends. Contact: Fr. John Kracher, Sr. Thérèse Bilodeau or Dirk Schmid. Email: spiritnight@hotmail.ca

TEC is a unique experience in Christian living for people from the age of 16 and up. TEC stands for "To Encounter Christ" (formerly "Teens Encounter Christ") and is a Catholic non-profit organization that focuses on organizing weekend retreats for youth as well as adults in the Winnipeg (Manitoba, Canada) area. TEC is endorsed by the Roman Catholic Dioceses of Winnipeg and of St. Boniface.