RCIA Workshop … Conversations & Discovery
The Archdioceses of Saint Boniface & Winnipeg are collaborating to host an
RCIA Workshop … Conversations & Discovery
Saturday, June 23rd, 9 AM – 5 PM
Our Lady of Perpetual Help Parish, 4588 Roblin Blvd., Winnipeg
Dave and Sandy Marshall,
Western Conference for the Catechumenate Executives
will lead the workshop.
During the workshop, participants will acquire the skills to build an evangelizing parish that involves the entire community and learn to recruit and build a thriving RCIA team that is focused on disciple formation as our response
to our own calling of missionary discipleship.

For more details, view poster. To register, click here.
Follow-through: Western Conference for the Catechumenate (WCC RCIA)
October 11, 2017 - Archdiocesan Centre, 151 de la Cathédrale Avenue
We focused on the first question: What one thing did you learn from the WCC Conference?
What are our greatest SUCCESSES and joys? And our greatest CHALLENGES?
How to use the 5 Inquiry Discernment Questions from TeamRCIA.
Western Conference for the Catechumenate
June 9-10, 2017 - Mary, Mother of the Church Parish, 85 Kirkbridge Drive, Winnipeg
The TeamRCIA - Lifelong Discipleship Training which was held on June 9 and 10, 2017 was a great success. Participants were privileged to hear Nick Wagner and Diana Macalintal with TeamRCIA putting an invigorated framework to the RCIA in a proactive manner.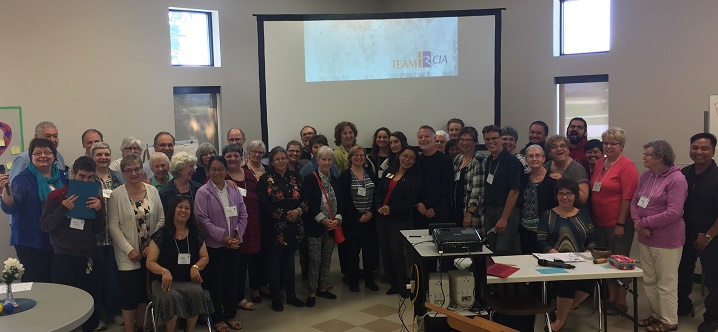 Nick Wagner & Diana Macalintal
Reaching those not-yet-with-us. Learning how the RCIA (Rite of Christian Initiation of Adults) reaches those who are seeking and would like to explore becoming Catholic.
Interested in using the content of the RCIA as a learning tool within your small groups?
Gain insights to address specific issues experienced in Western Canada and with adolescents.
View PowerPoint - click here
RCIA (Rite of Christian Initiation of Adults)
Resources
A. TeamRCIA
1) Book: The Way of Faith: A Field Guide for the RCIA Process
Sign up for their wonderful newsletter filled with many rich suggestions, guidelines and resources.
2) Documents:
i. Inquiry Discernment Questions. Click here
ii. Path for the Way of Faith. Click here
iii. Mystagogical Catechesis. Click here
iv. Handouts Making Disciples. Click here
B. Journey of Faith: available from the Archdiocese Resource Library: click here.
Annual Event - Rite of Election
Rite of Election - Sunday, February 18, 2018
at the Saint-Boniface Cathedral
For the complete document Rite of Election Ritual 2018, click here
For the document NEW Rite of Election List, click here.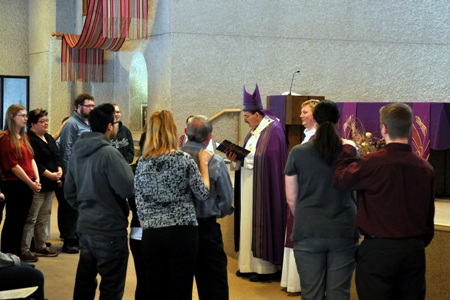 Description of Services
From the beginning of the review of pastoral and spiritual needs in the Archdiocese of Saint Boniface, lay faith formation has been a top priority. The goal of the Lay Faith Formation service is to initiate and support all projects related to this priority in the diocese, regions, and parishes.
Forming Volunteer Diocesan Sub-Committee to spearhead initiatives.
For all questions regarding all sacraments: Chancellor, Fr. Christopher Nwosu, 204-594-0261.
Implement the catechetical program for the Rite of Christian Initiation of Adults (RCIA) in the Archdiocese and offer training opportunities to pastors, parish coordinators and team members.
Establish a list of individuals willing to offer spiritual direction, guidance and facilitate training opportunities.
Coordinator
Vacant until further notice
For any questions: 204-237-9851