The Year of Saint Joseph
Pope Francis proclaims "Year of St. Joseph."
With the Apostolic Letter "Patris corde" ("With a Father's Heart"), Pope Francis recalls the 150th anniversary of the declaration of Saint Joseph as Patron of the Universal Church. To mark the occasion, the Holy Father has proclaimed a "Year of Saint Joseph" from today, 8 December 2020, to 8 December 2021. Click here for the Vatican News article.
Click below to go to the Canadian Conference of Catholic Bishops (CCCB) Evangelization, Catechesis, and Catholic Education Resources for the Year of St. Joseph
Prayers, Litanies, and Devotions Consecration to Saint Joseph
Church Documents Patris Corde Guided Video Reflections
Catechetical Activities for Children and Youth Other Resources
Pour des ressources en français de la Conférence des évêques catholiques du Canada, cliquez ici
Pour des ressources en français de l'Oratoire Saint-Joseph, cliquez ici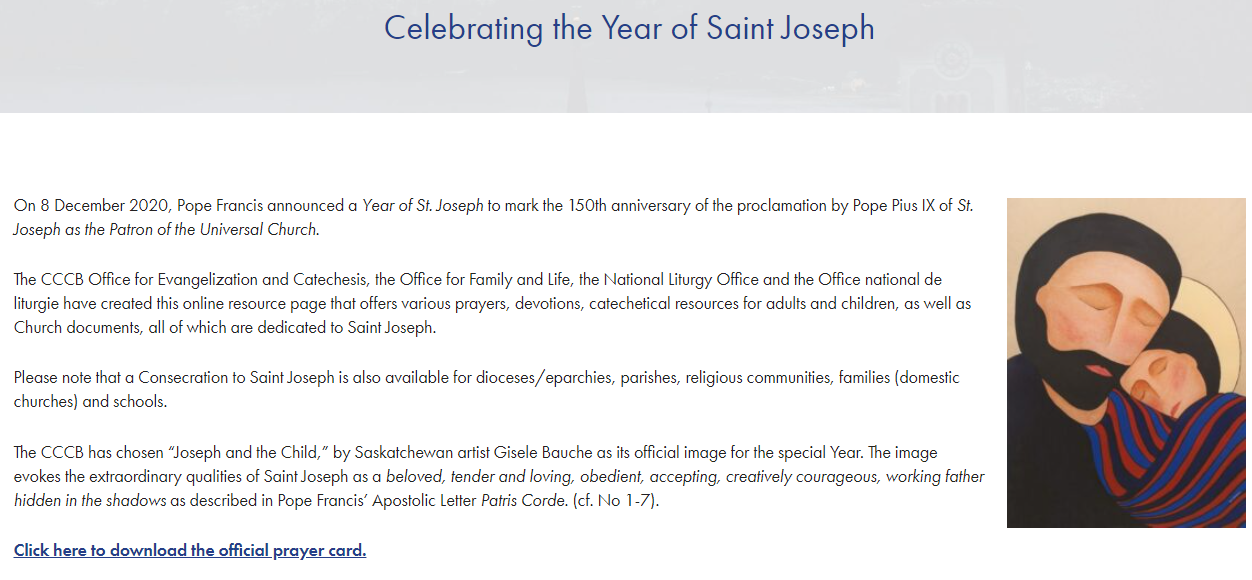 Click below to go to the website of Saint Joseph's Oratory, The largest shrine dedicated to Saint Joseph in the world.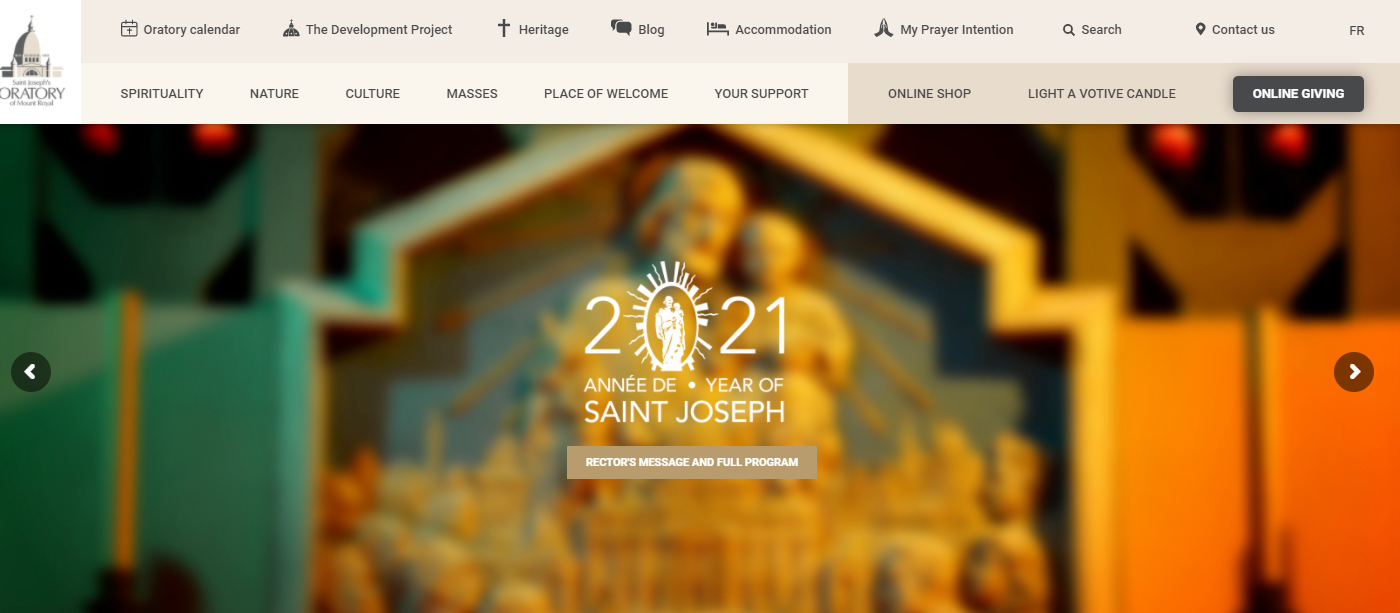 ​
Additional Resources
Word on Fire Blog: This Angry, Unkind World Needs "The Year of Saint Joseph" - Elizabeth Scalia shares her thoughts on the Silent Saint, and why our world should look to him as a role model for the coming year.
Look to Him and Be Radiant: Resources for the Year of St. Joseph - Katie from Look to Him and Be Radiant shares resources to help celebrate the year of St. Joseph.
Easy Ways to Celebrate Saint Joseph in Your Catholic Home - Dianna from The Kennedy Adventures gathered an array of ideas to help you celebrate Saint Joseph in your home — from crafts, learning activities, printables, food ideas, books and more.
8 Ways to Honour Saint Joseph by Cat.Chat Productions - Gerald & Denise Montpetit are the founders and creators of Cat.Chat Productions Inc. They have five children who are actively involved in the ministry. They operate as a family-owned ministry/business under the guidance of their local Bishop in Bruno, Saskatchewan.
"Saint Joseph, after Mary, is the greatest saint and the most dear to Jesus."
- Bl. Bartolo Longo
"If you wish to be closer to Christ, we again today repeat, "Go to Joseph".
-Ven. Pope Pius XII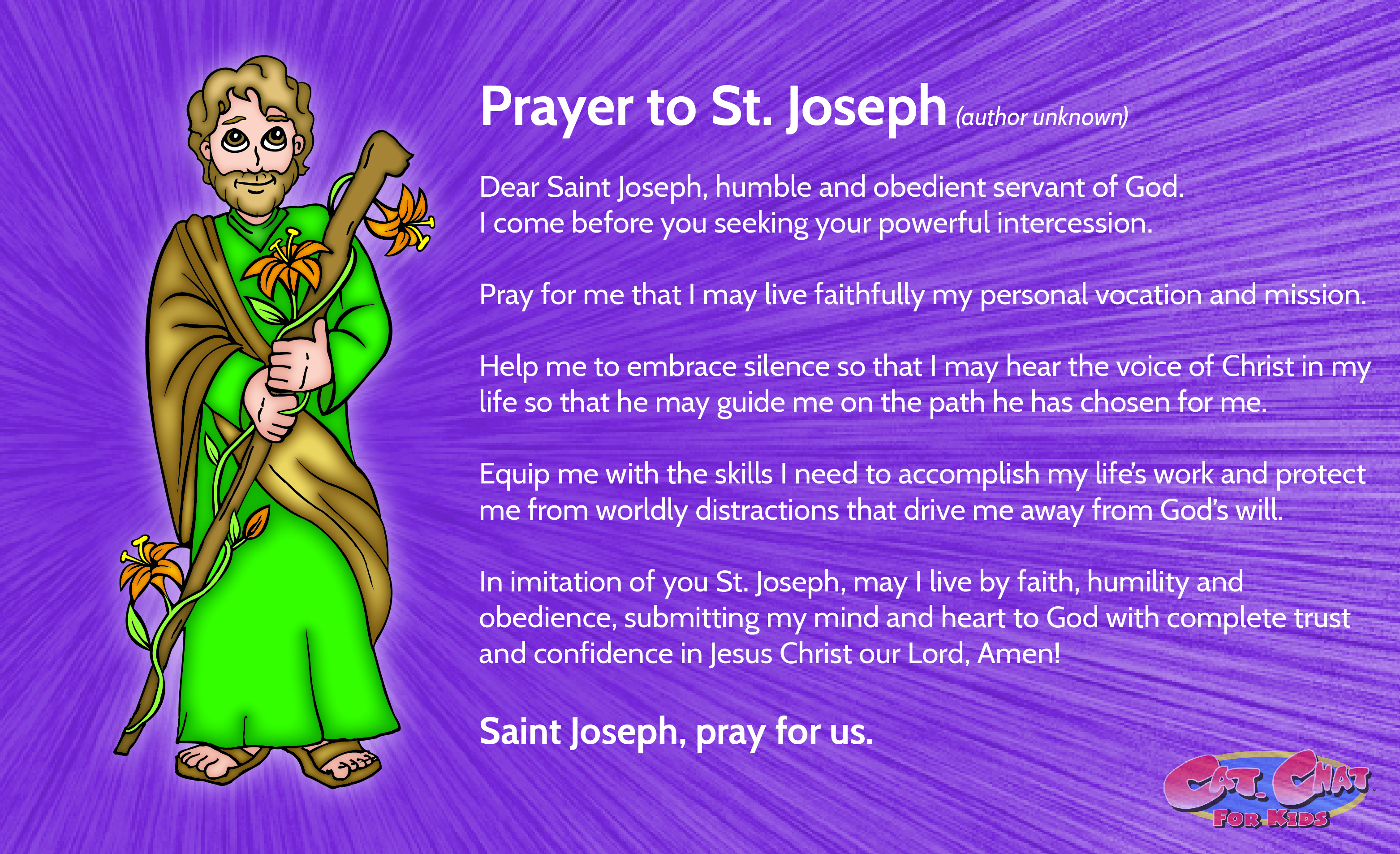 From YouTube
Archbishop Albert's Message
This year's feast of Saint Joseph celebrated on March 19th, will take on a much broader dimension this year, within the context of the year dedicated to Saint Joseph, proclaimed by Pope Francis. Joseph, the principal patron of the universal Church, is also an example par excellence for us through our lenten journey: his quiet, humble, yet strong and diligent disposition can serve as an example for us of how we can continue to grow towards God.
Cat.Chat Saint Joseph Song
Click here or on the photo to listen or download (2.26 minutes) MP3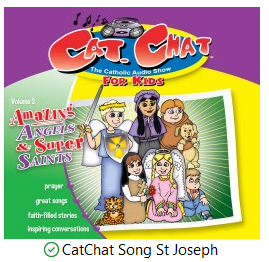 Loyola Press Resources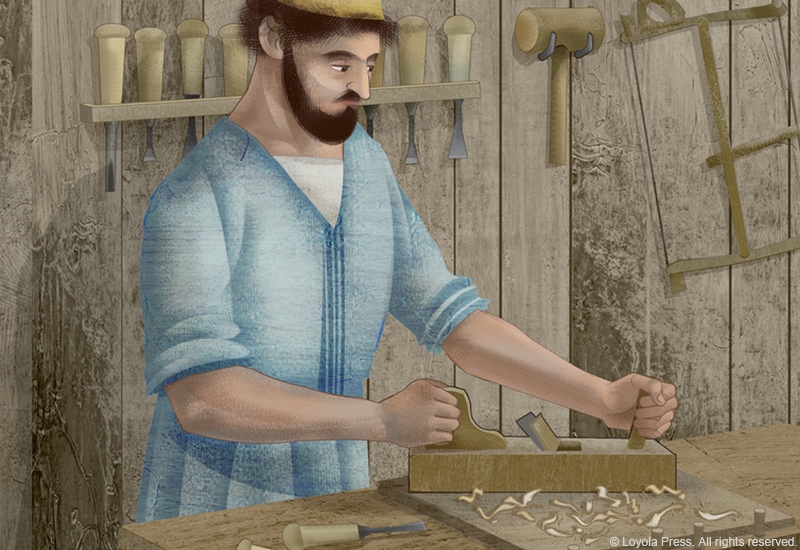 Pope Francis proclaimed a Year of St. Joseph to run December 8, 2020, through December 8, 2021. In conjunction with the announcement, the Pope released the apostolic letter, Patris Corde (With a Father's Heart).
In celebration of this special year dedicated to St. Joseph, Loyola Press highlights resources for exploring St. Joseph and his role as a hidden, though loving and beloved father, who showed courage and acceptance.
Feast Days
Saint Joseph—Feast Day March 19
Saint Joseph the Worker—Feast Day May 1
Prayers
Prayer to St. Joseph, the Protector of the Church
A Journey with Mary and Joseph (A Las Posadas Prayer)
3-Minute Retreat: Open to Listen
3 Minutos De Retiro: Dispuesto a escuchar
3-Minute Retreat: Believe in Your Dreams
3 Minutos De Retiro: Cree en tus sueños
Reflections
St. Joseph as a Patron Saint video with Cardinal Timothy M. Dolan
5 Things About Christmas with St. Joseph by William Byrne
Arts & Faith: The Dream of Saint Joseph
Saying Yes to God: Joseph's Yes by Catherine Wiecher Brunell
Homelessness by Jane Knuth
I Am Yosef by Tim Muldoon
Joseph's Yokes by Loretta Pehanich
Three Lessons Catechists Can Learn from St. Joseph by Darcy Osby
Three Things the Holy Family Can Teach Us About Saying Yes to God by Becky Eldredge
Pop-Up Catechesis: St. Joseph and a Place for Introverts in the Church
Activities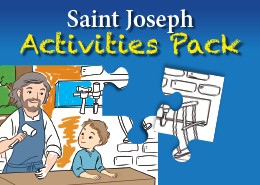 Retelling the Story of Mary and Joseph
The Nativity of the Lord (Christmas) Vigil Mass (Matthew 1:1–25)
The Nativity of the Lord (Christmas) Mass at Dawn (Luke 2:15–20)
The Holy Family of Jesus, Mary, and Joseph, December 27, 2020 (Luke 2:22–40)
The Holy Family of Jesus, Mary, and Joseph, December 26, 2021 (Luke 2:41–52)
The Holy Family of Jesus, Mary, and Joseph, Cycle A (Matthew 2:13–15,19–23)
Solemnity of Mary, Mother of God, January 1 (Luke 2:16–21)
Sunday Connection: Fourth Sunday of Advent, Cycle A (Matthew 1:18–24)
Catechetics