Paroisse Saint-Joseph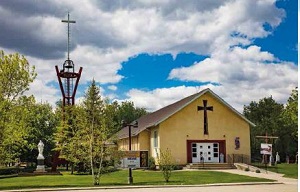 Animatrice de la vie paroissiale
Suzanne Ayotte
Address
102, rue Morin
Saint-Joseph Manitoba
R0G 2C0
Contact Number
Ph. 204.737.2219
Fax.
Email
paroissestjoseph1877@gmail.com

Mass Times
Sunday - 9:30 AM
Language: French
La messe de 9h30 est présidé l'abbé Djiba et celle de 18h30 est présidé en anglais par L'abbé Anquilero pour la communauté Filipino.d'Altona.
Sunday - 6:30 PM
Language: English
The 9:30 AM Mass is presided in French by Fr. Djiba and the 6:30 PM Mass is presided in English by Fr.Anquilero for the Philippine community of Altona.
Adoration Times
No times are currently listed
Confession Times
No times are currently listed