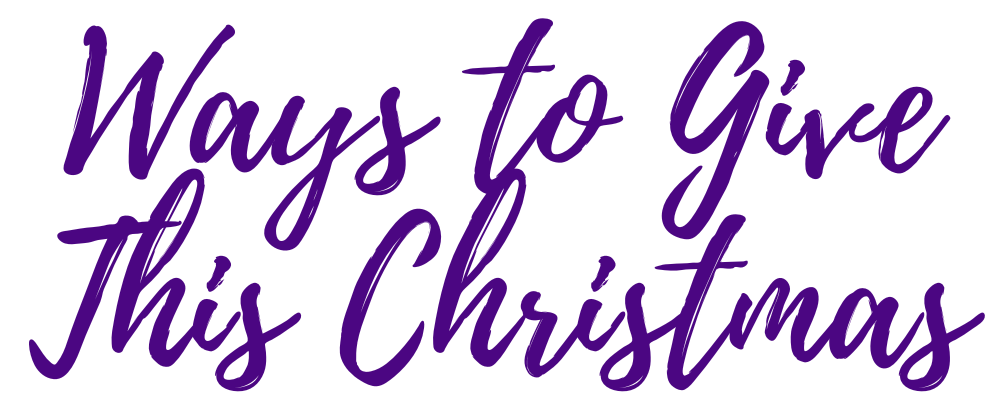 The Advent and Christmas seasons are an important time of giving. Here are some suggestions for ways we can help this winter. Please consider being particularly generous according to your means.
1JustCity
This organization offers many different programs at different sites in Winnipeg, guided by four pillars – loving the underloved, working towards reconciliation, growing individuals' capacities, and building inclusive communities.
Some of their programs include drop-in programs, Just A Warm Sleep, the Christmas Store, Alabaster Jar, and indigenous cultural programming, among others.
Click here to visit their website to learn more about their services or click here to make a donation.

Bruce Oake Recovery Centre
255 Hamilton Avenue
Winnipeg, Manitoba R2Y 2C3
E: info@bruceoakerecovery.ca

The Bruce Oake Recovery Centre is a non-profit residential treatment program that offers long-term live-in and community-based services to individuals who are looking to recover from substance abuse disorder.
Click here to visit their website and learn more about their programming.

Please email info@bruceoakerecovery.ca or phone 1-866-612-6253 (toll free) to enquire about making a donation.

Centre Flavie
Centre Flavie strives to be an effective ally in the battle against poverty so that the most vulnerable may live in a dignified manner. In 2019 alone, they received nearly 18,500 donations and distributed over 54,000 household articles and bags of clothing, and they are always looking for volunteers.
Please click here to make a monetary donation.
Information concerning the donation of items can be found at this link.

Development and Peace
This Christmas, Development and Peace – Caritas Canada invites you to put people and planet first.
Donate online by clicking here or by phone at 1-888-234-8533.
IRCOM (Immigrant & Refugee Community Organization of Manitoba)
"IRCOM is a one of a kind place; a home to hundreds of immigrants and refugees from across the globe, who are secured with long-term, affordable, and safe housing, together with holistic, wrap around programs and services for parents and children alike.
IRCOM is the "receiving family" for those who have no one in Canada to receive them; a home where each person finds belonging and dignity all of which is essential so they can meaningful integrate into their new community." (IRCOM website)
Click here to visit the IRCOM website and learn more about this organization. Click here to make a donation online.


Main Street Project
https://www.mainstreetproject.ca/
MSP's 6th Annual Holiday Gift Drive (Information taken directly from their webpage)
The holidays are quickly approaching and we are planning our biggest ever holiday gift donation drive here at Main Street Project.

Please help us this holiday season as we aim to gather donated items to put together over 500 gift packages so that each of our community members has their own gift to open the morning of December 25th.
We will be collecting donated items until Friday, December 17th and hope to have all items in office by that date. It would be most helpful to us to have items dropped off to us here at the MSP admin office, 661 Main Street, Monday to Friday, 9am to 5pm. Please note that all clothing donations must still go to 75 Martha Street.
You can also buy items from our Amazon Wish List and your donation will be mailed directly to us. Please visit our wish list to see what items we'd like to include in our gift bags.
Please note: to accommodate those who may not be able to drop off, we will do one day of pickups during the daytime on Friday, December 17th. Please contact us if you'd like us to pick up.
If you would like more information on how you can help this initiative, please contact us at donations@mainstreetproject.ca and we will get back to you ASAP.


Morberg House/St. Boniface Street Links
Operating a 12-bed transitional residence to provide a safe space for men experiencing addiction, homelessness and mental health challenges. Through shared living space, people passing through Morberg House are able to lean on others with lived experience to help them on their recovery journey. No person is the same, nor is the approach to recovery. The house is staffed 24/7, including a psychiatric nurse, who helps residents to map out what brought them to Morberg House and how to approach challenges going forward.
Click here to read more about Morberg House and other St. Boniface Street Links initiatives.
How to support:
Financial donations mailed to Morberg House, 311 Provencher Blvd, R2H 0G8, or online at this link.
To make a donation of food and/or hygiene products – contact at 204-615-5557

North Point Douglas Women's Centre & Mama Bear Clan
www.npdwc.org
204-947-0321
director@npdwc.org
Please click here for a complete list of most needed donation items, which include:
Non-perishable food items
Baby formula
Feminine hygiene products
Hygiene products
Seasonally appropriate clothing
Pet items
Monetary donations can also be made by clicking this link.

OPK (Ogijiita Pimatiswin Kinamatawin)
O.P.K. aims to nurture and support marginalized and at-risk Indigenous young adults and their families through connection to the Indigenous cultural community, ceremonies, and Elders; accessing identification and driver's licenses; advocacy; after-hours support; counselling; mediation; support around housing, income, education, training, and employment; support around mental health and addictions, among others.
Click here to visit their website and learn more about this organization.
Click here for a list of items they are accepting as donations or phone 204-795-1741 to enquire about making a monetary donation.

Rossbrook House
The late Sister Geraldine MacNamara (1938-84) articulated Rossbrook's guiding principle that "No child who does not want to be alone, should ever have to be." Rossbrook's operational philosophy then and now is based upon two fundamental principles: self-help and self-referral.
Click here to learn more about Rossbrook House and their programming, or click here to make a financial donation.


West End 24 Hour Safe Space for Youth
Melissa Crait, West End 24 Hours Manager
Email: outreach1@spenceneighbourhood.org
WE24 Outreach Office:
204-783-5000 ext. 111
WE24 Outreach Cellphone:
204-333-9681
West End 24 Hour Safe Space for Youth (also known as WE24) is a program offered through the Spence Neighbourhood Association that provides an overnight space (11 PM – 7 AM) for youth ages 13-26 to rest, relax, access food, resources, and basic needs, in a supportive, kind, and warm environment.
Click here to donate through the Spence Neighbourhood Association (you can choose WE24 – West End 24-hour Safe Space for Youth or another program of your choice from the drop-down list).
Please email Katelyn Sutton at ksutton@archsaintboniface.ca
with any other organizations or initiatives you would like to see added to this list.