Annual Diocesan Conference
*NEW*
Social Justice Conference - Saturday, March 17, 2018
The Third Annual Saint Boniface Diocesan Social Justice Conference will be held on Saturday, March 17 in a downstairs meeting room at the Saint Boniface Cathedral; registration and coffee at 9:30 AM; conference from 10 AM to 3 PM. Lunch will be provided. All parish council members, parishioners and all those interested on being a better partner with those in need are invited to attend this inspiring day. Come hear thought-provoking testimonies of how various people committed to social justice, and to making our world a better place, have shared their talents and gifts in unique opportunities. The day will feature speakers as well as time for focus group discussions. To register or for more information: Gayle Hansen, chinahansens@hotmail.com, 204-736-9260 or Louis Balcaen, 204-424-5434. Please make note of allergy issues or dietary concerns for lunch.


PAST EVENTS
Diocesan Social Justice Awareness Day- Saturday, March 4, 2017
The 'Social Justice A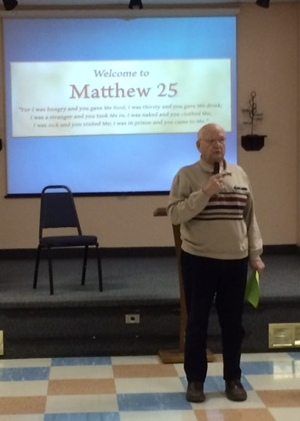 wareness Day': 'Whatsoever you did for one of these least brothers of mine, you did for me' (Matthew 25, 40) took place on Saturday, March 4th, at Christ the King Parish Hall. The primary objective was to provide information and support parish pastoral councils (PPC's) in their efforts to establish a Social Justice Committee in their parish as well as to provide a diocesan-wide connection for volunteer opportunities. The day consisted of guest presentations from Winnipeg's core programs for prison ministry, refugee programs, and youth support programs.
Doug Cross, ordained deacon and retired police officer, was the guest speaker and spoke of his long-time experiences of responding to homeless people. He suggested that our vision of what Jesus looks like might need adjustment in light of the homeless, amongst others. Loving them means not only seeing them as an image of Jesus, but in fact recognizing them as Jesus in our lives.
Other guest speakers included: Phil Chiappetta from RossBrook House; Kathleen Mico from Future Hope Prison Ministry; Marion Willis from Morberg House and St. Boniface Street Links; Deacon Claude Lambert from Our Place, Chez Nous. Deacon Alphonse Tran represented Archbishop LeGatt who was unable to attend. He also introduced St. Vincent de Paul charitable organization which he has actively led, based from his assignment as deacon at the Cathedral parish.
Participants felt the day was inspiring, interesting and helped satisfy their thirst for information and ways to become actively involved.