Follow-through: Western Conference for the Catechumenate (WCC RCIA)
SAVE THE DATE - Wednesday, October 11, 2017 from 7 PM to 9 PM, Archdiocesan Centre, 151 de la Cathédrale Avenue, in the Grand Refectoire.
The TeamRCIA - Lifelong Discipleship Training which was held on June 9 and 10, 2017 was a great success. Participants were privileged to hear Nick Wagner and Diana Macalintal with TeamRCIA putting an invigorated framework to the RCIA in a proactive manner.
Gather your team. Make a plan. Come on Wednesday, October 11 and share what you are doing and hear what others are doing. This will be an opportunity to talk about how the RCIA can fulfill it's mandate to be the source of all catechesis.
Western Conference for the Catechumenate
June 9-10, 2017 - Mary, Mother of the Church Parish, 85 Kirkbridge Drive, Winnipeg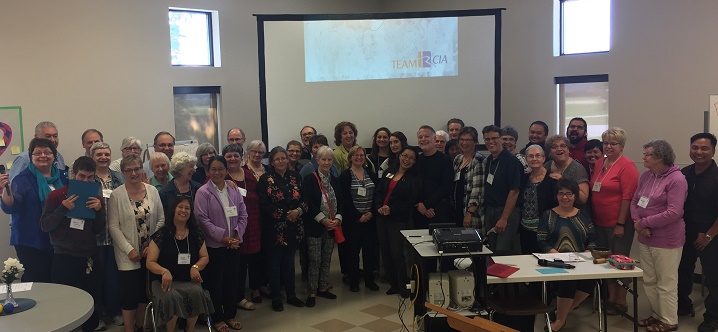 Nick Wagner & Diana Macalintal
Reaching those not-yet-with-us. Learning how the RCIA (Rite of Christian Initiation of Adults) reaches those who are seeking and would like to explore becoming Catholic.
Interested in using the content of the RCIA as a learning tool within your small groups?
Gain insights to address specific issues experienced in Western Canada and with adolescents.
View flyer with registration details.
RCIA (Rite of Christian Initiation of Adults)
Resources
A. TeamRCIA
1) Book: The Way of Faith: A Field Guide for the RCIA Process
2) Documents:
i. Inquiry Discernment Questions. Click here
ii. Path for the Way of Faith. Click here
iii. Mystagogical Catechesis. Click here
B. Journey of Faith: available from the Archdiocese Resource Library: click here.
Annual Event
Rite of Election - Sunday, March 5, 2017
For the complete document Rite of Election Ritual 2017, click here
For the document Rite of Election List, click here.
Description of Services
From the beginning of the review of pastoral and spiritual needs in the Archdiocese of Saint Boniface, lay faith formation has been a top priority. The goal of the Lay Faith Formation service is to initiate and support all projects related to this priority in the diocese, regions, and parishes.
For all questions regarding all sacraments: Chancellor, Fr. Christopher Nwosu, 204-594-0261.
New Project - Anticipated Date: September 2017
Implement the catechetical program for the Rite of Christian Initiation of Adults (RCIA) in the Archdiocese and offer training opportunities to pastors, parish coordinators and team members.
Establish a list of individuals willing to offer spiritual direction, guidance and facilitate training opportunities.
Lillian Ćulumović, Coordinator
Telephone: 204-594-0276
Email: lculumovic@archsaintboniface.ca
Evangelization