Diocesan Study Days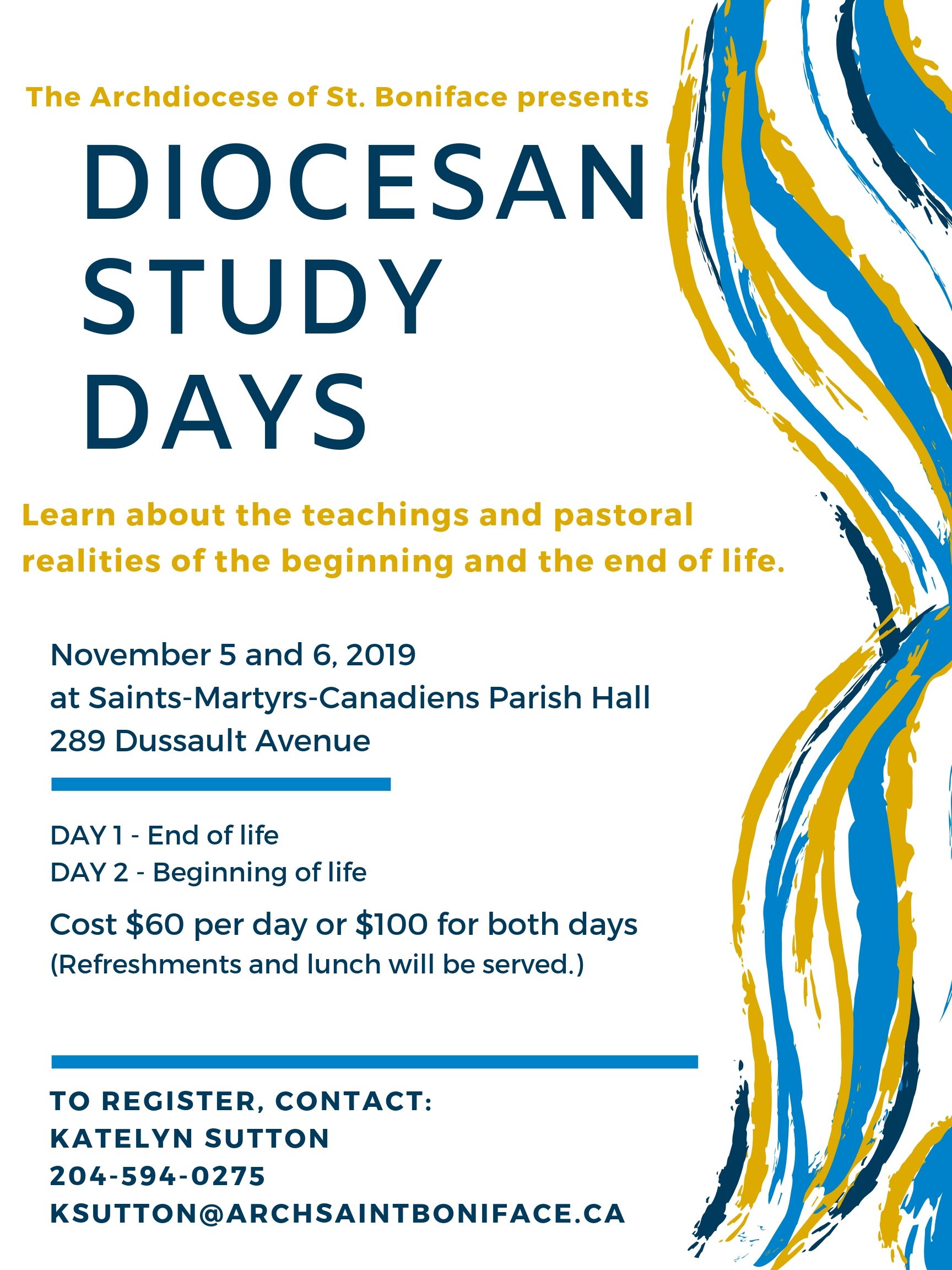 ---
Presentation Notes
Advanced Health Care Directives
Similar Presentation by Katarina Lee - Medical Assistance in Dying (43 minutes)
Similar Presentation by Katarina Lee - Advance Health Care Directives (36 minutes)
Natural Family Planning
---
Schedule
Click here for the schedule for this two-day conference.
Meet Our Speakers
Michel G. MacDonald

Sessions: Review of the Essence of Church Documents and Teachings Regarding the Sanctity of Life; Apologetics Regarding the End of Life; Apologetics - Beginning of Life

Michel MacDonald is currently the Executive Director for the Catholic Organization for Life and Family, which was co-founded by the Canadian Conference of Catholic Bishops and the Supreme Council of Knights of Columbus. A former lecturer in theology, he has taught courses in bioethics, human sexuality and marriage, and moral theology. He received his S.T.L. from the Pontifical John Paul II Institute for Studies on Marriage and Family (Washington, D.C.), and holds a doctorate in theology (Ph.D., S.T.D.) from the University of Ottawa and Saint Paul University. Happily married with seven children, Michel enjoys playing music, watching old movies and sipping fine whiskey.
Katarina Lee

Session: Advance Care Directives & MAID

Katarina Lee, originally from the Carman area, became interested with questions surrounding medical care at the age of 12, when her grandmother was hospitalised for 19 months. This interest lead her to study and receive a BA in Philosophy from the University of Dallas, a MA in Bioethics from New York University, a JD with a concentration in Health Law and Bioethics from the University of Minnesota and a post-doctoral clinical ethics fellowship from Baylor College of Medicine and Houston Methodist Hospital. Katarina is currently a Clinical Ethicist at St. Boniface Hospital and the Catholic Health Corporation of Manitoba's communities of service. She also holds a position as an Assistant Professor in the Department of Family Medicine at the University of Manitoba.
Stan and Miriam Amaladas & Doug and Paulette Sutherland

Session: Called to Intimacy in the Face of Life and Death

Stan and Miriam Amaladas and Doug and Paulette Sutherland are Local Encounter Leaders. Worldwide Marriage Encounter (WWME) weekends offer an opportunity for married couples to get away and enliven the excitement, romance and passion in their relationship as well as to strengthen their marriage. A weekend experience is a time for couples to listen to presentations and share privately with each other; a time to focus on themselves.
Jean Lafrance

Session: Introduction to Natural Family Planning (NFP) (FR)

Jean Lafrance and his wife Janelle are officially recognized as a teacher-couple with Serena in the scientifically based method of natural family planning known as the Sympto-Thermal Method. Serena is a Canadian-based organization which uses a couple-to-couple approach in teaching this method. For over half a century, Serena has been proudly imparting its teaching to Canadian couples and hopes to continue to offer this service for many years to come. As parents, Jean and Janelle enjoy sharing their love of music with their children. They also love the outdoors and camping during the summer.
Panellists for the Discussion Regarding the End of Life
Jacqueline Bouvier

Jacqueline Bouvier was the Coordinator of Religious Education at the Parish of St. Timothy for 10 years. Jacqueline became interested in Palliative Care while caring for her grandmother at the end of her life. Following her grandmother's death, she began volunteering at Jocelyn House Hospice in 2012, which lead her to take a position as the Program Services Coordinator at Palliative Manitoba in 2015. Jacqueline is currently the Manager of Volunteers, Spiritual Care and Development at Jocelyn House Hospice.

Tim Frymire

Tim was the Coordinator of Spiritual Care at Riverview Health Centre (RHC) for the final nine years of his career in Health Care, retiring in 2016. Previously he was a spiritual care provider at St. Boniface General Hospital for 18 years, covering the Palliative Care Unit for the last seven. At RHC he often covered the 30 palliative care beds. Tim also supervised Clinical Pastoral Education units for the past 15 years at both SBGH and RHC. Tim has an abiding interest in end-of-life issues and has a passion for finding humour even in spirituality and dying. His motto: "Life is too important to be taken seriously".

Mike Goldberg

Mike Goldberg has been the Community Outreach and Education Coordinator at Palliative Manitoba since July 2015. He received his Bachelor of Psychology from Winthrop University in South Carolina and his Masters in Gerontology from the University of Regina. Mike facilitates bereavement education seminars across the province for organizations wanting to improve their understanding of the palliative care approach and he facilitates compassionate care courses for WRHA Health Care Attendants, Direct Support Workers, and First Nation Communities. Mike is also the primary facilitator for Palliative Manitoba's grief support groups for children (Kids Grieve Too and Teens Grieve Too).
Panellists for the Discussion Regarding the Beginning of Life
Dawn & James Kautz

James and Dawn Kautz have been married for twenty years and have eight children (so far). They met while volunteering for The Challenge Team, an organization that toured Canada in the 1990s presenting the message of chastity to school and youth groups. James is originally from Saskatchewan and was raised as a Free Methodist and converted to Catholicism in 1998. Dawn is Winnipeg born and is a cradle Catholic.

Elisabeth Angus

Elisabeth is a registered nurse who has worked in a variety of healthcare settings over the last 9 years. Her passion is all things women's health and in 2018 she completed her teacher certification in FEMM (Fertility Education & Medical Management). In her private consults, she aims to provide an integrated health approach to fertility, pre and postpartum care. She currently resides and farms outside of Beausejour, MB with her husband and 3 young boys.

Jun Parreño

Jun Parreño has been married to Ana Marie for 16 years. They have 4 children, ages 16, 13, 11 and 3 months old. Jun and his wife both came from big families of 8 children on each side of the family. They are members of Couples for Christ, a Catholic community.
2019 Diocesan Study Days Registration:
Please register by Tuesday, October 22, 2019 by sending your completed registation form by email to ksutton@archsaintboniface.ca or by fax to 204-237-9942.
Please make cheque payable to
C.A.C.R. de Saint-Boniface.
Registration fees can be mailed to the Archdiocesan Centre (151 avenue de la Cathédrale, Winnipeg, MB R2H 0H6) or handed in the morning of the Diocesan Study Days.
Please click the link below for the registration form:

Please contact Katelyn Sutton with any questions at:
or 204-594-0275
Faith Education