Fort Alexander Parish - Garden of Hope
Let's Help Fort Alexander Parish
build a Garden of Hope
and Reconciliation!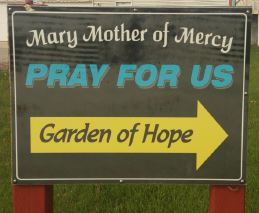 This garden, which brings together Indigenous and Catholic traditions, will offer an outdoor meditative space designed especially for people seeking a quiet time with their Creator or searching for meaning in life. Initiated by Fr. Augustine Ezediniru, this outdoor space will include a grotto with a statue of Mary Our Lady of Perpetual Help, chosen in light of the respect given to women by the Indigenous people of the community. The grotto will be built of rocks selected by individual members of the community and representing their unique pathway as well as challenges they strive to overcome.


The Fort Alexander Parish has already raised $4,000 of the $20,000 required to complete the garden, including the grotto, the statue, benches, plants and interlocking bricks.
To donate towards this project, please:

and choose Pastoral Work with First Nations.
The parish would be very happy to offer public recognition for significant contributions to the completion of the garden, for example the gift of the statue or a bench.

For more information on the Garden of Hope, read the complete article.

Fr. Augustine's mission maxim:
'Love Lifts Up and Forgiveness
Heals Hurt!'