Alpha
Alpha Film Series Why Alpha (2 min 30 sec); Watch the Teaser (2 min 5 sec)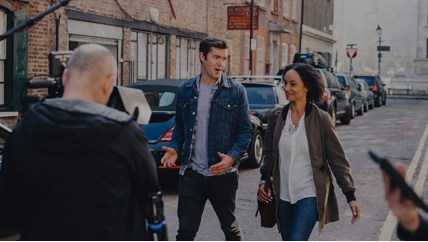 Toby Flint & Gemma Hunt: 16 talks – 11 weeks
Now available, the Alpha Film Series is designed for today's audience. It was filmed all around the world, and features interviews with world-famous leaders and inspiring stories. Two new hosts, Toby Flint and Gemma Hunt, join Nicky Gumbel to unpack the basics of the Christian faith in an updated and engaging way.
1. What is Alpha?
Alpha is a series of interactive sessions that explore the basics of the Christian faith.
Typically run over 8-12 weeks, it allows anyone to explore life, faith and God in a friendly, open and informal environment. In each session there's food, a short talk, and discussion in small groups. Everything you need to run Alpha is available online and free to download. Watch the above video: Why Alpha?
2. What does an Alpha look like?
There isn't really an average Alpha. It runs in churches, homes, bars, coffee shops, prisons and schools all around the world. No two Alphas look the same, but they all have three key things in common: food, a talk, and open discussion.
Food
Every session begins with food, whether it's a
three-course meal
or a light snack. Eating food together creates space for people to connect, relax and
build friendships.
Talk
The talks are designed to engage guests and inspire conversation. They explore the big issues around faith and unpack the basics of Christian faith, addressing questions like
"Who is Jesus?",
"Why and how do I pray?"
and "How does God guide us?"
Discussion
The discussion allows people to share their thoughts and questions about the talks without being corrected or judged. The Alpha training helps host and
helpers facilitate this discussion time and keep it a positive and comfortable experience for guests.
3. RUNALPHA - Find out more about hosting your own Alpha
How do I run Alpha?
1. Get Trained Alpha comes with 15 short Leader Training videos as part of our 'Training Centre' as well as other resources that answer the most common questions about food, atmosphere, prayer and the essentials of a great Alpha. These are specifically for the primary Alpha leader to watch and are accessible after you create an Alpha Builder account.
2. Plan and Prepare In Alpha Builder we have a planning schedule, checklists and training videos to help you get started. The Alpha talks are available for FREE in Alpha Builder so your costs will depend on what scale you want to provide food, decor, promotional pieces, etc. You'll need to decide a few things: Where will you run your Alpha? What time will work best for those you want to invite? What dates will work best for you and the venue? It's a great idea to get some of your key people to help you think this through.
3. Build and Train Your Team One of the vital parts of running Alpha is having a great team. Whatever the size of your Alpha, make sure you pick the best possible people to help and support you. After you've gathered a team, plan one or two team building days to watch the 3 Team Training videos together, get to know each other and pray for your upcoming Alpha.
4. Spread the Word Once you've got everything planned and you've picked your team, you'll need to figure out how to promote your Alpha. Pray for creativity, and think through how to encourage people to invite their friends and promote your Alpha to the local community. We have a variety of free resources in Alpha Builder including social media images, promo videos, and customizable print materials to help you with this.
5. Go for it Finally, the best way to learn more about running Alpha is to go for it. Running Alpha takes a bit of work but it's totally worth it. As you get ready to launch your Alpha, pray as a team for each guest and for each other. We're so glad you're part of the global story of Alpha, transforming lives in your local context and we can't wait to hear how it goes.